Verizon Samsung Galaxy Note 2 release date may be a while yet
In some regions the Samsung Galaxy Note 2 has been available for almost a month now, with the device receiving great reviews from owners and critics alike. Meanwhile consumers in the US have been left twiddling their thumbs waiting for the device to arrive on their shores. Things are getting closer though but the Verizon Samsung Galaxy Note 2 release date may be a while yet.
The handset has already gone up for pre-order on the major carriers in the US that include the likes of AT&T and Verizon, and selling on rivals such as T-Mobile and Sprint, but with regards to Big Red the carrier has been only said the device will be available in the coming weeks despite the pre-orders going live. As Droid Life is reporting according to the process of pre-ordering the device it will begin shipping on November 27th.
Now though a leaked internal document is suggesting that the carrier will not be stocking the Galaxy Note 2 in its stores until November 29th, in either Marble White or Titanium Grey. This will make Verizon the last major US carrier to offer its customers the Note 2.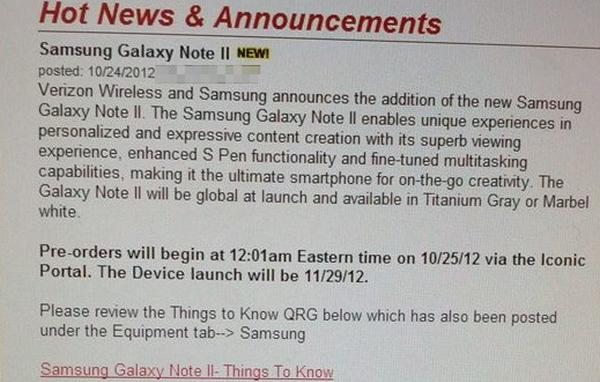 Both T-Mobile and Sprint are already providing the handset to consumers either online or in their brick and mortar stores, and rival carrier AT&T is expected to have the device available on November 9th. Maybe the delay has something to do with the fact the Verizon version has the carrier's logo on the home button, which we reported recently.
A number of other sources have suggested the Galaxy Note 2 will become available from Verizon on the 29th of November. This news comes after we recently told you that T-Mobile customers picking up the device were getting the nice surprise that a future update would provide support for the carriers LTE network once it is up and running.
Are you disappointed that Verizon are making you wait longer for the Galaxy Note?