BlackBerry 10 Dev Alpha A and B spec differences
RIM are currently busy working on the upcoming BlackBerry 10 operating system that it hopes to turn around its flagging fortunes, and the company is also working with developers to get as much content ready for the launch next year. These developers have been working on BlackBerry 10 Dev Alpha A and B handset, and today we are looking at the spec differences between the two devices.
An article over on the BlackBerry Developer Blog is comparing the differences between the two pieces of hardware, but it has to be remembered these devices are only prototypes handsets and not final BlackBerry 10 smartphones. The devices have been given to developers so they can get their applications ready for when the platform launches, and theses apps can be submitted for approval since October 10th.
The Dev Alpha A used the OMAP 4460 dual core processor where the Alpha B has the OMAP 4470, which improves performance especially for graphics via the new SGX544 graphics chip. The displays on the two handsets are the same, while both feature an eight megapixel rear camera, but the Alpha A features a three megapixel front shooter compared to a two megapixel unit on the A.
Memory wise the Alpha A has 16GB of built in memory with 1GB of RAM, while the Alpha B has 16GB of memory with a Hot Swappable MicroSD slot. The radios inside the two devices have some differences but both have Quad Band HSPA/, but the way the four bands are supported differ slightly.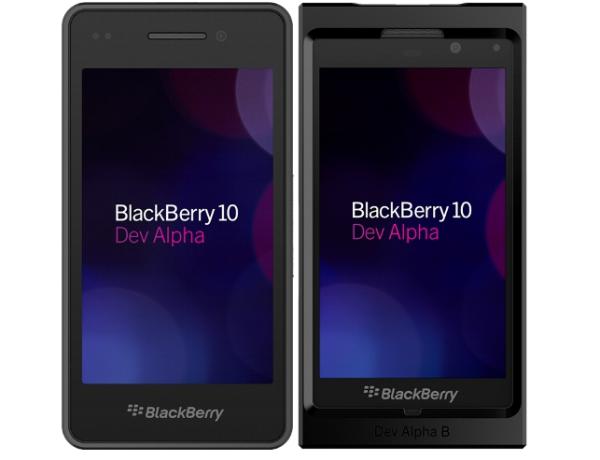 Those that want to use a microSIM card for a Dev Alpha device need to check first what bands are needed for the carrier you use, as the Alpha B is limited to EDGE using T-Mobile in the US, where as the Alpha A can get HSPA. The Alpha B has more Wi-Fi options with 5GHz frequency support for 802.11a\n, as well as Bluetooth 4.0 and DLNA.
Battery wise the Dev Alpha A is using a 1,590 mAh unit which compares to the Alpha B that has a removable 1,800 mAh unit providing the juice. The two handsets are using a 4.2-inch display with 1280 x 768 resolution that provides 356ppi, while using a 15:9 aspect ratio.
Obviously these are not the actual handsets that will be launched with the new operating system next year, but they still give you some idea what can be expected hardware wise.