Apple release iOS 6.0.1 via OTA update
To coincide with the launch of the iPhone 5 Apple released its latest version of its mobile operating system to the masses in the form of iOS 6, but trouble is there have been a number of early teething problems with the software. We can now tell you that Apple has released iOS 6.0.1 via an OTA update to fix some of the bugs.
As GottaBe Mobile are reporting the company has pushed out the iOS 6.0.1 update for owners of the iPhone, iPod Touch, and iPad that brings with it a number of bug fixes for the software. Users of iOS devices have been looking forward to the update since it was first revealed to be coming just over a week ago.
The update will address the issues that some users have been experiencing when trying to connect their device to the Wi-Fi networks they use at home, and it will also fix the keyboard bug that has seen some users met with horizontal lines displayed across the keyboard.
Apple has also revealed that the new software will fix the cellular receptions issues that have been affecting some iPhone owners, which only started after downloading iOS 6, and the company has promised that they have fixed the issue where the flash on the camera not going off.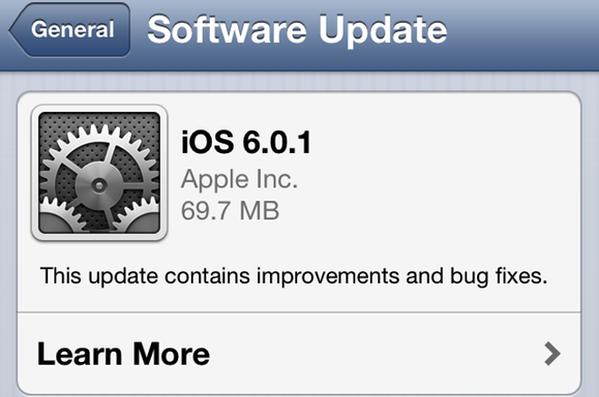 Owners of the iPhone 5 will be given a prompt ahead of installing the new software that is almost 69.7MB in size, and owners of the smartphone will need to download and install an update, which will fix a bug that stops some iPhone 5 users from getting the update over the air.
Once this downloader has been installed iOS 6.0.1 will be automatically readied and installed normally, and users of the iPad 2 or later, iPhone 3GS and up, and the iPod Touch 4G or later are promised a much better experience.
If you have one of these devices you can go to settings and check for the update via the Software Update option and the file size of the update is small so should complete pretty quickly, but you can still update your device via the usual iTunes route if you refer. You can see the full list of bug fixes here.
Have you installed the iOS 6.0.1 yet?