Hurricane Sandy NYC update via app choices
Hurricane Sandy has left devastation and destruction in its wake as the big cleanup gets underway, and even though the storm was forecast with plenty of early warnings, it caused a lot of disruption. Today we have some app choices for you that provide Hurricane Sandy NYC updates and news on your mobile device.
First up for owners of the iPhone, iPad, and iPod Touch is the HurricanTrack application that promises to keep users up to date where the effects of the storm will be at their worst. Users are provided with detailed knowledge of what to expect from the storm that is from a hurricane expert and his team that have more than fifteen years of experience of hurricanes at landfall.
There are tracking maps that include exclusive Tropical Cyclone Heat with potential maps with the position and forecast track of the storm plotted, and a variety of video blogs are provided from field missions to keep track of Sandy's impact to the coast.
Users are also provided with live weather data from an instrumented wind tower, along with a live web cam. There is also a daily blog post from the website that features maps, videos, and embedded graphics. HurricaneTrack is available on the App Store for £2.49/$3.99.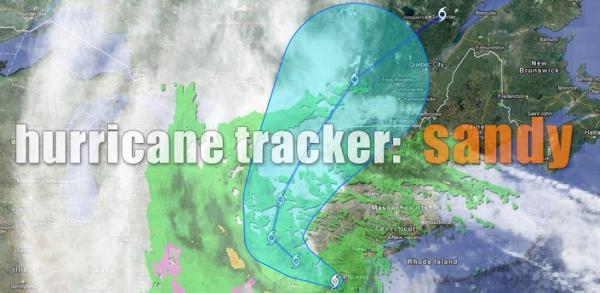 Next up for Android users is the free Hurricane Sandy application that works as a browser providing all the latest information and news about the storm with images, using the likes of Google, Yahoo, and Wikipedia. For more information or to download head over to the Google Play Store.
Another free Android application is the Hurricane Sandy Tracker app that gives users the latest and up to the minute news on the path and effects of the storm. It also keeps users up to date with the status of the local and national power grid and surge probability.
The current version of the app monitors Hurricane Sandy, but future updates will keep users informed about future storms, and the app can be downloaded from Google Play.