Samsung Galaxy Note 3 physical keyboard forethought
The Samsung Galaxy Note 2 has been available for a while now, and no doubt the smartphone/tablet combo will be yet another great success for the company, and many owners love the device. Now we have been asking around to find out if people prefer a physical keyboard or an on-screen keyboard, and many have said they would love to see the next Galaxy Note come with a physical slide out keyboard.
There are many great smartphones out there already that offer a slide out QWERTY keyboard for the many people that still prefer a physical keyboard as they find it easier to use than a vertical keyboard, but obviously as yet we haven't been treated to a Samsung Galaxy Note featuring a slide out QWERTY.
I do have to say that at first I personally went for handsets with a slide out keyboard as I found the physical keys easier to use and hit without hitting the wrong key. But as most high end touch screen handsets only offer a virtual keyboard, I soon learnt to use one and moved away from physical keyboards.
That's not to say of course if a high end smartphone came out that offered a slide out QWERTY that really captured my attention I wouldn't be tempted to purchase it, as I am sure most who struggle with on-screen keyboards would do the same.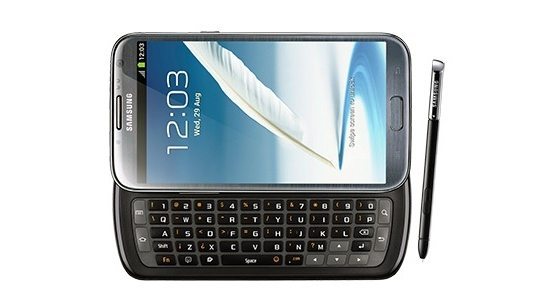 The physical keyboard hasn't reached its end of usefulness though, as there are many people with large hands that find a physical keyboard much easier to get on with. So with this in mind, wouldn't it be great if old Sammy was to deliver the Samsung Galaxy Note 3 with a physical slide out QWERTY keyboard for everyone who has fumbling fingers?
We recently came across a petition that is petitioning for a 5-row physical keyboard for believe it or not, the Samsung Galaxy Note 2. Now obviously it is somewhat late in the game to start considering the Samsung Galaxy Note 2 sporting a physical keyboard, as it's simply not going to happen, and seems a tad strange to me that anyone would start a petition calling for such.
This is why we are saying how about a physical keyboard on the Samsung Galaxy Note 3, so we'd like to find out our readers opinions on this matter. Therefore the question is, would you like to see the next Galaxy Note come out to play with a physical keyboard, or do you feel that a virtual keyboard and S Pen functionality is all that will be needed?
Feel free to voice your opinions on a Samsung Galaxy Note 3 with physical keyboard to our comments area below…thanks.