ThL W1 cost effective Android phone for Christmas
There are so many Android smartphones on the market such as the Samsung Galaxy S3 and the HTC One, but if you have lack of pennies in the bank and only can afford a certain amount then top handsets are out of the question unless you get them on contract. We do not normally like phones that sort of copy top names like HTC and Samsung but seeing as it is getting near to opening presents we would like you to take a look at the ThL W1 cost effective Android phone for Christmas.
The ThL W1 is on sale right now via Chinavasion for only £118.11, if you buy more than 3 it will cost £108.19 and the more you buy the cheaper each handset gets. The Branded ThL W1 runs on Android 4.0 Ice Cream Sandwich and provides a nice 1GHz Dual Core CPU and 1GB, this is not what you call a very bad Android phone because it has some good features considering the price. The 4.3-inch qHD screen with a 960×540 resolution is not bad for watching movies or playing games on.
This handset may not be as good as the Samsung Galaxy S3 or some of the top HTC smartphones but it is not meant to be, this is a perfect handset if you do not have sufficient funds to buy the more expensive branded models. The ThL W1 Android phone has a 8MP camera on the rear and a 0.3 Megapixel front-facing camera, comes with a low 4GB internal memory but can be expanded up to 32GB thanks to the Micro SD card slot.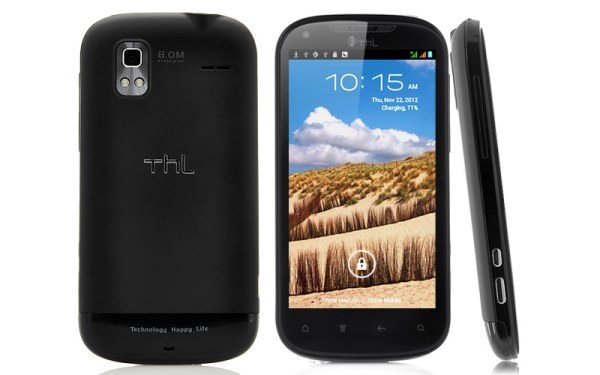 If you do decide to buy via Chinavasion they do offer a 12-month warranty and the ThL W1 Android phone comes with two 1550mAH batteries, you can also choose between black or white. We have added a video below of this mobile phone, please do take a look and let us know what you think. Not bad Christmas present for someone looking for a mobile phone without breaking the bank.