Google Nexus 4 still hard to get, stock availability checkers
The long-running stock availability saga for the Google Nexus 4 smartphone continues, with still no imminent signs of more stock arriving to be sold through the Google Play Store. With the 'sold out' signs still in evidence for both the 8 and 16GB versions, many potential customers are understandably irritated that they can't even order one at the moment and one of the most frustrating things is having to incessantly check Google Play in the hope of seeing that the Nexus 4 is back in stock. The Nexus 4 by LG is still hard to get but we have news today of some stock availability checkers that will help make the task less wearisome as stock alerts can be sent to you.
We've recently discussed whether the handling of the Nexus 4 launch by Google and LG was bad business practice or just a sorry saga so we'll not bang on about the whole story of shortages of the device since its initial release in November. If you want to find out more on this though then hit the above link or also look at our previous post here about the fact that it's not just the phone itself that's unavailable but there is also a distinct lack of official accessories for the Nexus 4.
In some regions the only way to get hold of the Nexus 4 is through the Google Play Store for that area but of course as we all know, stocks are virtually non-existent at present. In other areas, it's possible to get the Nexus 4 through a carrier too but in these cases the phone is a lot more expensive than purchasing through Google Play and let's face it the low cost of the phone is one of its main attractions, as well as those top-notch specs of course. Some people have resorted to other avenues such as eBay but as you can imagine many are paying silly money to obtain them this way.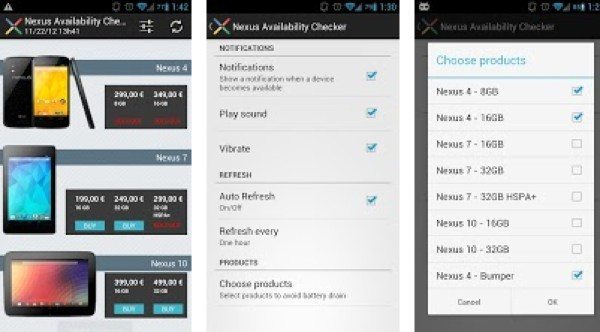 A glance at the Google Play Store today shows it just the same as most other days, with the 8GB and 16GB version of the Nexus 4 both listed as 'sold out' with no option to order. There's also no way of signing up for email stock notifications from Google either but there is a way of taking the hard work out of this situation and knowing that as soon as there's availability you'll be informed. Back in November we told of an app to keep readers updated about Nexus 4 stock but there are two more apps available now, one of which has just been updated. As we could still be looking at several weeks before Nexus 4 stock is flowing again using either of these apps could be a useful alternative to constantly refreshing the Google Play Store page.
The first app is the Nexus Availability Checker by Julien Vermet and it's available from Google Play here. It's a free app for devices running Android 2.0 or later and was updated yesterday. The app shows not just availability of the Nexus 4 but of all Nexus devices in whichever country you are in where Nexus devices are sold. When new stocks become available the user of the app will receive a notification to their phone along with a ringtone and vibration alert. Nexus devices are checked for availability every few hours and the app is rated 3.5 /5 and there's also a donation version of the app, which is ad free and allows the user to change refresh rates.
Another Android app now available is simply called Nexus Checker by Claudio Mezzasalma from Google Play here. It's a free app and compatible with devices running Android 2.3.3 or later and also checks for worldwide availability of Nexus devices. It can check any Play Store worldwide and not just the one that you're connecting from although apparently there are issues for Australia right now, hoped to be resolved shortly. It also provides notifications from within the app although the developer notes these can be a "bit buggy." Despite this though the app has a rating of 4.4 /5 at the Play Store so it seems many users are highly impressed with this app.
If you are fed up with constantly checking the Google Play Store for Nexus 4 availability then hopefully at least one, or both, of these apps will save you the job and you'll be assured of hearing as soon as stock becomes available again. We'd like to hear your thoughts on Nexus 4 stock availability. Are you tired of hitting the refresh button and will try one of these apps instead? Maybe you've already used either of the above apps and could recommend them, or not, to our other readers? Let us know with your comments.