Verizon Samsung Galaxy Note 10.1 with customised JB
If you are one of the Android faithful over in the good old US of A and your preferred carrier happens to be the Big Red, you might have been wondering if the Samsung Galaxy Note 10.1 would be coming to Verizon at some point in the future. If you have been hoping Sammy's S Pen 10.1 Note would be arriving on the Verizon network then we have some news for you, it is, and very soon.
Samsung has now confirmed that their Samsung Galaxy Note 10.1 will play nice on the Verizon Mobile 4G LTE network in the coming weeks, and will arrive on the Big Red with a customised version of Android Jelly Bean and image editing tools.
With the Samsung Galaxy Note 10.1 users can utilise two different apps simultaneously side-by-side enabling true and easy multitasking along with using the S Pen to sketch on the other half of the display without the need to toggle back and forth between applications.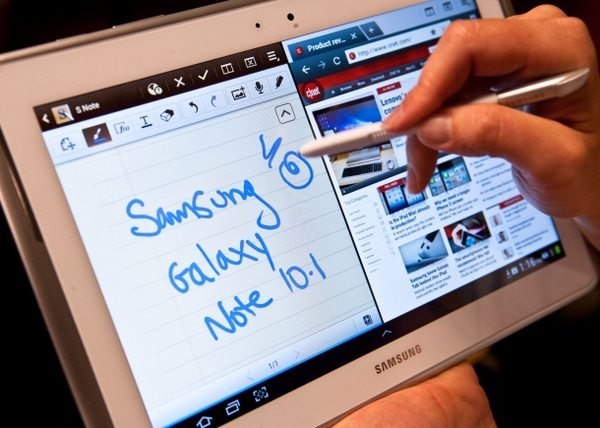 The Galaxy Note 10.1 is also enterprise ready and SAFE (Samsung for Enterprise) right out of the box, enabling enterprises across multiple industries can utilise the device for business including BYOD (Bring Your Own Device) programs.
As you know doubt already know, the Samsung Galaxy Note 10.1 sports a 1.4GHz quad core processor that can easily enable the user to surf the Big Red 4G LTE network, along with a 5 megapixel rear facing shooter and a 1.9 megapixel front facing snapper, and will run Android Jelly Bean OS.
Furthermore the Galaxy Note 10.1 will be available with Kno educational software available for K-12 and high education students, which is an e-textbook software that enables users to download thousands of interactive textbooks.
You probably also know that the Galaxy Note 10.1 also includes several features that where first introduced with the very popular Samsung Galaxy S3 such as AllShare Play that allows seamless passing of content from the Samsung Galaxy Note 10.1 to other Sammy devices. Pop up Play, enabling the user to view side-loaded videos whilst operating any app in full screen, and Group Cast, which enables the user to collaborate on presentations, images or documents in real time with friends.
Although we now know that Sammy will deliver the Samsung Galaxy Note 10.1 to Verizon in the coming weeks, unfortunately there is no word on just how much the device will set you back at the moment.
Any of our readers over in the US hoping to snap up the Samsung Galaxy Note 10.1 once the Big Red make it available?