Archos Titanium, the power of four Android tablets
With CES 2013 drawing to a close for another year manufacturers in the mobile world haven't announced any big showcase devices, which will probably have to wait until next month's MWC event in Spain. There have been some products though such as the four new Android tablets in the Archos Titanium range that we have for you today.
The company has revealed its new line up that include tablets starting at 7-inch and going all the way up to 10.1-inches, with 8-inch and 9.7-inch HD devices in-between. The four devices all feature a high definition IPS touchscreen display using a 1.6GHZ processor with a quad core graphics chip, and they are running on the Android 4.1 Jelly Bean operating system.
Most of the differences between the four models are simply the screen size and it seems the company is trying to please everyone by offering a variety of sizes. The company doesn't give too much away regarding full specifications for the tablets, but does reveal that the 9.7-inch model has a pixel resolution of 2048 x 1536.
The company has revealed the pricing for the new Android range though and they are certainly competitive, as the Archos 70 titanium is priced at £99, $119, €119, and the Archos 80 titanium will cost you £149, $169, and €169.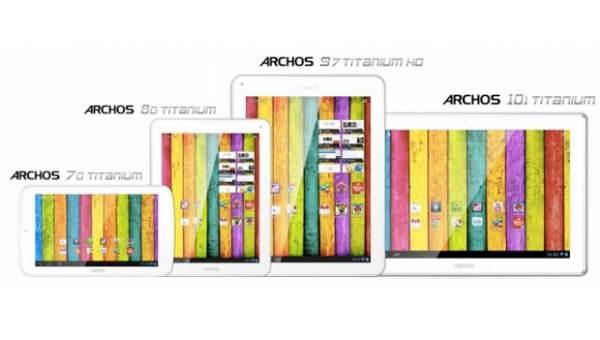 At the top of the new range is the Archos 101 that will cost £169, $199, €199, and the most expensive option is the Archos 97 titanium HD that is priced at £199, $249, and €249. The company is pushing this model as an alternative to the new iPad except costing half the price.
The Android platform certainly has a vast array of tablet PCs on offer to consumers now, and it's never a bad thing being spoilt for choice especially as it can also keep prices down as well.
At the time of writing the company has not revealed when the new line up will be available for consumers to actually purchase, but the range certainly looks good on paper especially for the budget conscious.
We have found a video from Engadget that you can see below with some hands on that reveal some more information about three of the range that includes expandable storage via microSD card, and some of the other ports include HDMI. Check the video out for yourself and tell us what you think about the new range of Android tablets from Archos.