iPhone 5 Mojo Refuel Removable Battery Case Pre-order
When you have a spanking-new shiny device it's understandable to want to protect it with a case and if you have an iPhone 5 you may be interested in this item. The Mojo Refuel Removable Battery Case is now available to pre-order and has a shipping date of February 28th. As well as shielding your iPhone 5 from everyday bumps and scrapes this is touted as the first iPhone 5 removable power solution in the world.
The Mojo Refuel Removable Battery Case for iPhone 5 allows for easy battery change and has two standard I9300 battery modules. Instead of having to change the complete battery case it features battery replacement and so is eco-friendly. It can also cut your battery charging time by around half, compared to standard 500 mAh USB output power and while one battery is being used in the Mojo Refuel the other battery can be charged with the included external USB battery module charger.
Protection-wise the Mojo Refuel is slim and is a snug fit for the iPhone 5 and guards against impact and shock with well-rounded stress-absorbing protection for those accidental drops, knocks and also vibrations. Power specs include input of 5V DC, 500 mA, output of 5V DC, 1A and 2200 mAh battery capacity with a charging time of around 4 hours. Dimensions are 140mm x 63mm x 15.7mm and the weight of the Mojo Refuel is 43g without battery or 75g with battery.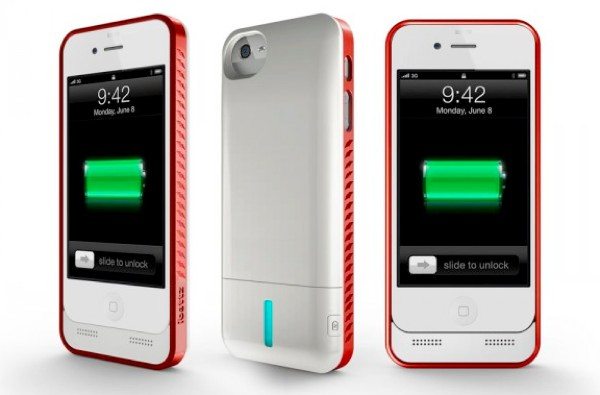 Contents of the package in total then include the Refuel Battery Case, Micro-USB Charge and Sync Cable, External USB battery charger, 2 x 2200 mAh I9300 battery modules and also two bumpers in Silver and Red. The product and order page for the Mojo Refuel Removable Battery Case in White can be found at ibattz here and it's priced at $89.90. It's also available in a black color option at ibattz here.
This looks to be a pretty useful accessory for the iPhone 5 but we'd like to hear what you think. Are you tempted to purchase the Mojo Refuel case? What are your thoughts on the cost of this product? Let us know by sending your comments.