iPhone 5 Rokshield v3 iP5 Case & RokDock Station
The CES 2013 event finished a few days ago and we saw a number of products from a variety of manufacturers that can enhance our smartphones or tablets PCs. These ranged from cases to other clever ideas to help us get the most out of our mobile devices. Today for owners of the Apple iPhone 5 we have the Rokshield v3 case and RokDock Station.
First up is the RokDock that can be seen below that offers users a heavyweight charging station that is manufactured from a solid piece of aircraft grade aluminium. The product weighs over 3 pounds that makes it ideal for removing your smartphone from the product using one hand without it moving.
The device is available in variety of colours and it is CNC machined and assembled by hand in the US, and other features include an adjustable rubber insert that allows the use of an iPhone 5 while being used inside almost any case. There is also anti slip grips on the bottom of the RokDock that prevents it from moving on hard services, and is available here for $99.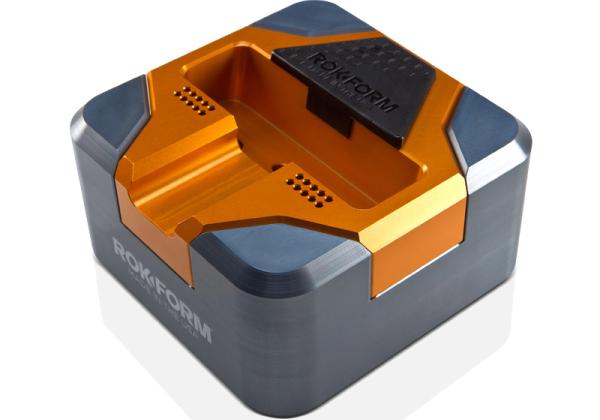 Meanwhile the RokShield v3 iPhone 5 case is a mountable and protective product all in one that also comes in six great colours. It offers consumers two cases in one with owners being able to remove the outer bumper to provide a really slim but protective case.
This new iPhone 5 case is promised to have the most features and protection than ever before, and includes a shock absorbing outer bumper made from rubber, a high impact polycarbonate frame, and an integrated anti slip grip.
The case also features the popular Remote Mounting System that is basically a disc like mount that can be placed almost anywhere using a 3M adhesive strip, which the case is then mounted to for removable mounting anywhere. You also get the magnetic kit that allows users to mount their iPhone 5 onto any magnetic surface. This can be found here for only $49.