Sony Xperia Z vs Huawei Ascend D2: The 5-inchers
Many of the very impressive smartphones that we've seen announced recently have 5-inch displays with full 1080p HD and very soon we feel that every smartphone will need to have a 1080p HD display to be considered top-end. Two of the very best we've seen so far are the Sony Xperia Z and Huawei Ascend D2, both due in Q1 this year. We thought it would be interesting for readers to look at the Sony Xperia Z vs. Huawei Ascend D2 in a battle of the 5-inchers.
The Sony Xperia Z was announced at CES last week and looks likely to release in March. The Huawei Ascend D2 on the other hand will be initially released in China today following to other regions later. Both have a lot to offer smartphone users and while we haven't room in this comparison to detail every single specification and feature, we will look at the key specs of each phone point-to-point to hopefully show readers which might be the best choice for them.
Processor
The Xperia Z is powered by a 1.5GHz Qualcomm quad-core Krait processor while the Ascend D2 uses the 1.5GHz Huawei K3V2 quad-core processor. Although on paper these look comparable, initial benchmarks showed the Xperia Z to be the faster device.
Display
The Xperia Z has a 5-inch TFT display with resolution of 1920 x 1080 and a staggering 441 ppi. The Ascend D2 on the other hand has a 5-inch IPS LCD display with matching impressive resolution and ppi.
RAM and Storage
There's 2GB of RAM for the Xperia Z and 16GB of internal storage, expandable via microSD to 32GB. The Ascend D2 also has 2GB of RAM although this time has 32GB of internal storage but this is non-expandable so as far as this aspect goes it's rather a case of swings and roundabouts.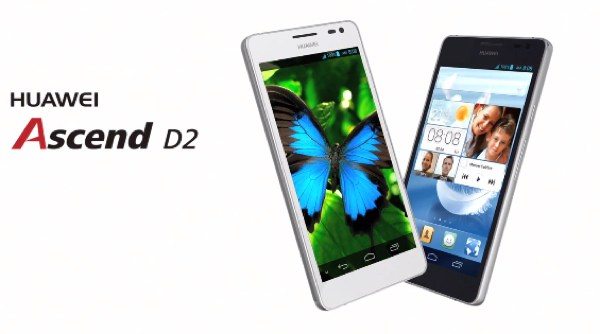 Camera
A notable 13.1-megapixel rear camera with autofocus, LED flash and 1080p video capture capability features on the Xperia Z along with a 2.2-megapixel front-facing camera, also with 1080p. The Ascend D2 also carries a 13-megapixel rear camera with 1080p video recording capability but this one has a lesser 1.3-megapixel front-facing camera, this time with 720p.
Battery
The Xperia Z has a 2330 mAh battery while the Ascend D2 has the larger battery capacity with a 3000 mAh battery so here the Ascend D2 edges it.
Operating System
Sony's Xperia Z runs Android 4.1.2 Jelly Bean, upgradable to 4.2 Jelly Bean with the Timescape UI. Meanwhile the Ascend D2 runs Android 4.1 Jelly Bean with the Emotion UI so the Xperia Z will be marginally more up-to-date on release.
Dimensions
The Xperia Z measures 139mm x 71mm x 7.9mm and weighs 146g. The Ascend D2 measures 40mm x 71mm x 9.4mm and weighs 170g so the Xperia Z is both slimmer and quite a bit lighter.
Price
The cost of the Xperia Z has not been officially announced but went up for pre-orders in the UK yesterday costing £530 SIM-free, that's equivalent to around US $850. The Ascend D2 launches at Â¥3990, around US $640. However these prices may not necessarily be the same in all regions.
Both of these smartphones have notable specs then and the Xperia Z comes in three color options, black, white and purple while the Ascend D2 comes in white or blue. Both are also dust and water-resistant although the Xperia Z is also waterproof up to 1 meter and for 30 minutes. The Xperia Z also has LTE connectivity (where applicable) as well as NFC support.
We've embedded official videos on the Xperia Z and also the Ascend D2 below this story so that you can see more. Although both the Xperia Z and Ascend D2 are impressive we put the Xperia Z ahead on specs, although of course other factors such as availability and design will also affect your choice. If you are considering buying a 5-inch smartphone with full HD display are you attracted to either of these two handsets? Which do you find most appeals to you and why? Let us know with your comments.