Samsung Galaxy Note 3 using Exynos 5 Octa processor seems assured
Things move fast in the mobile device world and many people are already considering what might be offered this year by the Samsung Galaxy Note 3 and Galaxy S4 (S IV) smartphones. We've already started to hear leaks on these and recently told readers that Samsung has come up with a new Exynos 5 Octa processor that would be ideal for these devices. However at that time Samsung had not announced when the Exynos 5 Octa would release or which devices it would be used in. It now seems assured though that the Galaxy Note 3 will be powered by the Exynos 5 Octa.
Although nothing is yet official about either the Note 3 or Galaxy S4 the S4 is rumored to be coming in spring with the Note 3 in the second half of the year. On hearing of the upcoming Exynos 5 Octa processor we had hoped that it might be released in time for the Galaxy S4 but it now looks unlikely that this phone will benefit from the Exynos 5 Octa. However if a new report is to be believed the Galaxy Note 3 will definitely feature the new processor that looks highly impressive.
The Exynos 5 Octa is said to offer greater performance while requiring less power thus conserving battery life and will also increase gaming performance significantly. It has been designed around the ARM big.LITTLE Cortex A15 architecture and uses two quad-core processors, four high-performance cores and four low-consumption cores. Although this may sound then like an octa-core processor, it is not 'true' octa-core as only one set of quad-cores will be utilized at any time.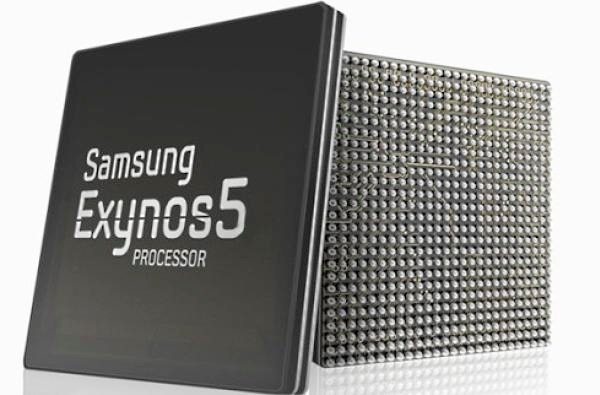 Many Galaxy Note fans will be pleased about an Unwired View report that categorically states that the Galaxy Note 3 WILL feature the Exynos 5 Octa CPU when it releases later this year. The report also discusses how the Exynos processors are likely to appear in more devices as Samsung bids to lessen its dependence on orders from Apple, as the company looks likely to move way from using Samsung parts at some point. Apparently Chinese phone makers Huawei and ZTE are both candidates for using Samsung Exynos processors in future devices.
There have been leaks and rumors about other possible inclusions for the Galaxy Note 3 phablet such as an increase to a humungous 6.3-inch display from the 5.5-inches of the current Galaxy Note 2. Other murmurings include the Galaxy Note 3 using one of Samsung's new flexible displays and the chance of it releasing with the next major Android OS revamp, 5.0 Key Lime Pie. Although Unwired View seems pretty unequivocal that the Galaxy Note 3 WILL be Exynos 5 Octa-equipped the other specs we've heard about at this stage are unofficial but of course we'll be keeping tabs on developments and will continue to bring you news and leaks as we hear.
There's no mention of the Exynos 5 Octa processor in the Unwired View report as far as the Galaxy S4 goes though so it appears that maybe the new processor won't be available in time for this flagship device, although of course anything is possible at this stage. We'd like to hear your thoughts on the Galaxy Note 3 having the Exynos 5 Octa processor as it sounds like this could be a mighty device? What other inclusions would you like to see on the Note 3? Send your comments to share your views.