Whale case for iPhone 5 functional but strange
So you've got that brand new shiny iPhone 5 and want to keep your Apple purchase as much in its original condition as possible. We often bring readers news about accessories for various devices and today it's the turn of the Whale case for iPhone 5, which it has to be said is functional but also strange. It's actually called the iWhale and if you want an iPhone 5 that will stand out from the crowd and make people stop and look then this case may be the one for you.
This is certainly a unique product and was designed by Seyook Lee of Yanko Design. Although we'd say that the iPhone 5 doesn't automatically make us think of whales there is something oddly appealing about the iWhale and we're informed that the idea of the case is to evoke the sight of a whale emerging on top of the water. Although you might imagine from this that the iWhale is all about aesthetics then we should point out that the iWhale is also very functional.
The tactile humped back of the whale gives the user a good hold on the iPhone and the whale's tail can be used to grip the phone to different surfaces, hang it if you want to view video content or use as a camera hand strap. Inside the iWhale there's also room for accessories such as headphones and one notable and appealing feature that caught our eye was the blowhole of the iWhale as this is actually a 3.5mm headphone port.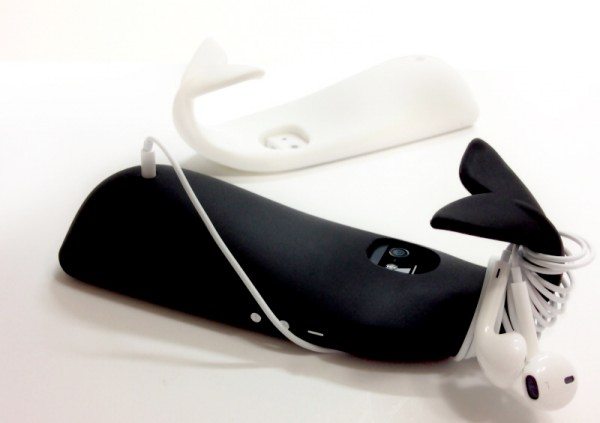 The price of the iWhale $23.90 and we have to confess that when we first saw it we were bemused but the more we looked at it the more charming it became. You can order the iPhone 5 Whale Lee case at Leese Design here and it's available in 5 color options, black, white, gray, pink and blue. We see a lot of accessories at Phones Review and though it's easy to write off the iWhale case initially, if you really take a good look it actually has a lot to offer in an engaging design.
Does the Whale case for iPhone 5 appeal to you? Maybe you like the look of it but can't imagine actually using it? Perhaps you already use it and can let us know what you think? Send us your comments on this.