HTC M7 likely to be Verizon, AT&T and Sprint-bound
The HTC M7 is a smartphone that's hotly anticipated with a release date sometime in Q1, possibly in February. We've been writing about this handset for some time and have been highly impressed with what we've seen so far and from the response of many readers they'd like to see it come to their carrier in their region. There's good news for US readers today as it seems highly likely that the HTC M7 is Verizon, AT&T and Sprint-bound and could also come to T-Mobile.
There will be many consumers very happy to see that the HTC M7 looks set to arrive with at least 3 of the 4 major US carriers and we hope to see the official unveiling of the phone at MWC in Barcelona next month, whereby it could be released shortly afterwards. There's still time to hear that it may also be carried by T-Mobile so we could be looking for a really major launch such as for the Samsung Galaxy S3, as occurred last year when that was released on all 4 of the big US carriers.
The news of the HTC M7 releasing on Verizon, AT&T and Sprint comes from the ubiquitous 'sources close to the matter' so although this is unconfirmed it could be entirely accurate as it comes from an often reputable Twitter informant. A tweet from evleaks reads that the phone is now also confirmed for AT&T "leaving TMO as the only major US carrier lacking concrete evidence." An important thing to note here are the words "lacking concrete evidence" as this suggests that the source may have heard something about the M7 being carried by T-Mobile but the news is not yet firm enough.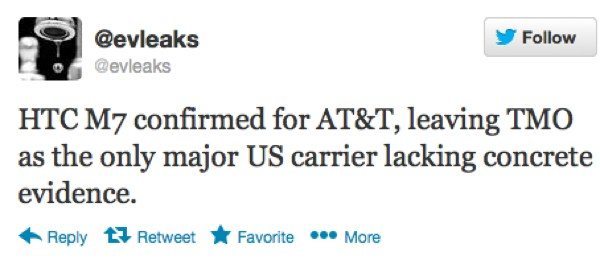 As a quick recap on what to expect from the HTC M7 we can tell you leaks and rumors suggest a 1.7GHz Qualcomm quad-core processor, 4.7-inch full HD display, 2GB of RAM and 32GB of internal storage. It should also be sporting a 13-megapixel rear camera with 1080p video capture capability along with a 2-megapixel front-facing camera, LTE connectivity and a 2300 mAh battery and it will be launched on either Android 4.1.2 Jelly Bean or 4.2 with HTC Sense 5.0.
We'll be following developments regarding the release date for the HTC M7 and will pass on that information as we hear it. For now it seems for the US at least, potential carriers will have a good choice of carriers available for the phone. Are you waiting for the HTC M7? If you're a T-Mobile customer are you hoping that the M7 will be eventually confirmed as coming to your carrier as well? Let us know with your comments.