No iPhone 5 jailbreak needed for Black Orbs theme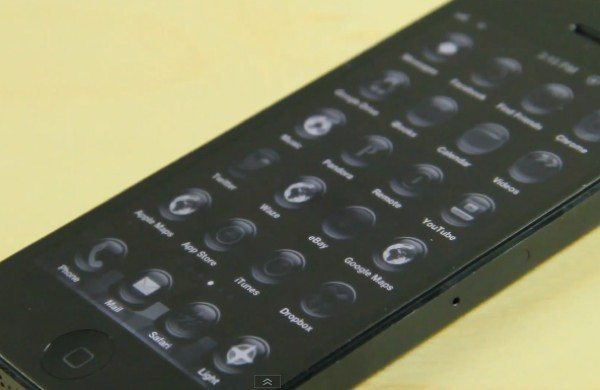 We've been bringing readers the latest developments about the iPhone 5 jailbreak, which has been rather an ongoing saga. There's good news today however as we have details of a Black Orbs theme and wallpaper that does not require your iPhone 5 to be jailbroken. Some compromises had to be made to the Black Orbs theme because of this but the theme still looks impressive and we think many iPhone 5 users will enjoy it for changing the look of their homescreens.
The Black Orbs theme currently includes a variety of 31 app icons to go with some of the most popular iPhone apps but because there is still no iPhone 5 jailbreak it's not possible to directly replace the look of an icon with another. Instead some cleverly used web clips and a profile that can be easily installed manage this for you, with the developer showing some clever innovation to get round the problem.
The creator of the theme says that no damage will be done to your phone from installing the profile so if you wish to try it out head here to download and install it. Simply install the profile and the rest will be automatically done for you. There's also an accompanying black wallpaper, which is available here, and we have to say that this is probably worth using as it really finishes off the intended look.
Work is currently ongoing to add support for more apps but just some of those supported so far are Apple Maps, Google Maps, Google Voice, Messages, iTunes, App Store, Safari, Facebook, Mail, YouTube and many, many more. Some things such as the stock Phone app are not supported, as not all apps are compatible with URL's as noted by iDownload Blog.
Another thing to point out is that you may not wish to have all of the app icons on your device but it's not possible to select just the ones you want to use. However of course the ones you don't want can be easily deleted when your icons are in wiggle mode. You can also easily remove the theme if you decide the look is not for you by heading to Settings followed by General and then Profile, uninstalling the Black Orbs profile and then rebooting. If you want to see more on this Black Orbs theme then head to the video at the bottom of our story.
While this Black Orbs theme isn't quite the same as having a jailbreak available it may at least give you a much-needed change until such time as an iPhone 5 jailbreak becomes available. If you want to check out our latest article on the status of the iOS 6 untethered jailbreak head here. We'd like to hear your thoughts on this Black Orbs theme so let us have your comments on this. Will you be using this theme, in which case let us know what you think of it? Maybe you are going to carry on waiting it out for the iPhone 5 jailbreak?