iPhone 5 ampjacket acoustic amplifier case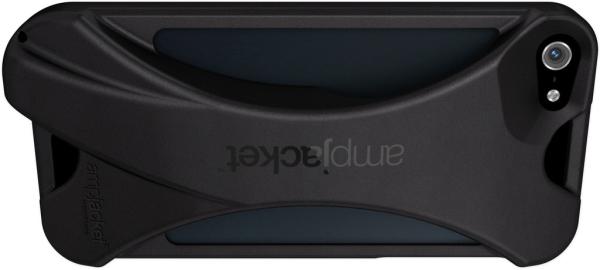 For those of us that like to protect our treasured smartphones in a case or bumper there are a huge variety of different products that can be used. The iPhone 5 is arguably the most stylish handset yet from the company with many users not wanting to cover up those looks with a case, but the iPhone 5 ampjacket acoustic amplifier case offers more than just protecting your handset.
This new case has recently been announced by Kubxlab that are a company that provide a number of innovative ideas for smartphone accessories, and this new iPhone 5 ampjacket acoustic amplifier case continues this trend. The case has been designed to double the volume of the iPhone 5 acoustically without the need for any external power or battery units.
The case is manufactured from a hard polycarbonate shell that has a matte rubber finish for a comfortable grip, and has been designed with a users experience in mind. It uses clever technology that filters the sound through the case to push it outwards while at the same time enhancing it.
This provides an impressive rich boost in volume that is twice as loud if the case is not used on the device, and besides this it fits nice and snugly onto the handset while providing a nice sleek look that compliments the smartphone.
It is smooth and lightweight and easily snaps into place and is great for when a user is listening to music or watching video content. The case is available for purchase now in a variety of colours and is priced at $29.95 from here and check out the video below.
Do you have a case fitted to your Apple iPhone 5?