iOS 6.x untethered evasi0n jailbreak release countdown & worldwide times: Update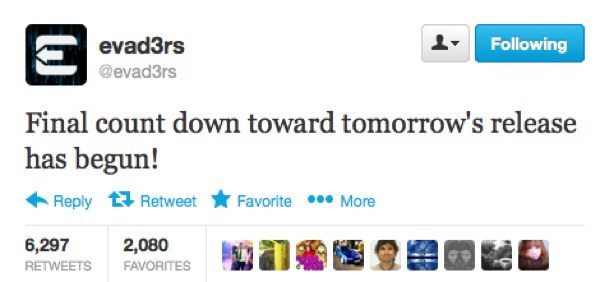 UPDATE 2: The jailbreak is now avaiable.
UPDATE: We have just looked at the evasi0n website and the status bar is up at 97%, please stick with us because we will let you know when it is all live. Are you excited?
We've been writing about an iOS 6.x untethered jailbreak for many moons now and have been following all the twists and developments. We know how many of you are waiting for this jailbreak and many were expecting the release of the evasi0n jailbreak by the evad3rs team on Sunday. However although that didn't quite happen it does look extremely likely that the iOS 6 untethered jailbreak for the iPhone 5 and other iOS devices will appear today and we're now in the countdown until a possible release at 12 noon EST Monday and have the times for where you are.
After many months of disappointment for those waiting for this jailbreak, renowned members of the jailbreaking scene pod2g, MuscleNerd, planetbeing and pimskeks formed the evad3rs team and we told how their new website had a completion bar showing how far there was to go until it was ready for a public release. On Saturday we said the jailbreak was now at 80% complete and we have now checked the status bar again to see that it is 95% complete, very promising indeed. The site also states that the jailbreak is now in final testing and preparation and to come back soon and has the words that many have been hoping to see, "Next Step: Release!"
The jailbreak is compatible for all iPhone, iPod touch, iPad and iPad minis running iOS 6.0 through 6.1 and that includes iPhone 3GS, iPhone 4, iPhone 4S, iPhone 5, iPad 2, iPad 3, iPad 4, iPad mini, iPod touch 4th and 5th generation as well as Apple TV 2. So what about that countdown to the release of this much-awaited jailbreak? We can tell you that evad3rs posted a tweet yesterday to say that although the jailbreak would not ready on Sunday it was now in the final countdown to a release on Monday, so that should reassure many of you. Some clever Twitter users have also noted that the progress bar is set to expire at noon EST today so this now looks more than likely to us.
In anticipation of this, over on timeanddate.com there's an event announcer with times for wherever you are in the world. For example the release is scheduled for noon on Monday if you're in New York, that's 9am if you're in San Francisco, 5pm in London or 10:30pm in New Delhi. Simply look up your location at the link to find the time where you live. Because of the time difference the release may come on Tuesday for some regions. For instance in Tokyo it will be 2am on Tuesday or in Sydney 4am.
We'll certainly be following developments on the jailbreak throughout the day and hope that all the signs are accurate and that the jailbreak does indeed arrive today, as indicated by the evad3rs team itself. Are you waiting eagerly for the iOS 6.x untethered jailbreak? Will you be counting down to noon EST? Let us know with your comments