Nexus 5 potential if Sony made it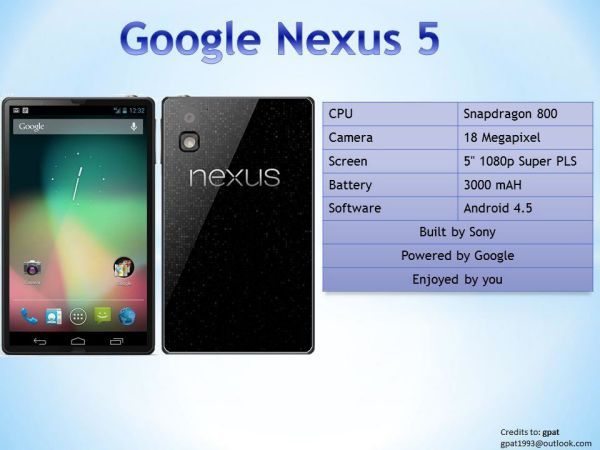 Ok so the Nexus 4 is now in stock via the Google Play store and there is still a major buzz about this handset, but today we decided to forget about the 4 for now and talk about the next installment aka Nexus 5. What if Sony made the Nexus 5? lets take a look at the potential.
Above you will see the Nexus 5 by Sony concept, and you can see it looks different to the other Nexus devices made by Samsung and LG, some say that they preferred the Samsung Nexus rather than the LG Nexus, personally with beg to dither on this one.
Anyway, lets talk about the Sony Nexus 5 and the possibilities — Sony surely deserve a chance at designing the next Nexus and designer gpat has a photo (Shown Above) showing the design of the new Nexus 5. Are you ready for the spces that could be?
The Google Nexus 5 by Sony according to Concept Phones would feature a 5-inch 1080p Super PLS screen, 18-megapixel camera, Android 4.5 aka Key Lime Pie (Even though we thought this would be 5.0) operating system, and Snapdragon 800 processor and will be a lot more compact than the Nexus 4. Hey Sony, if you do decide its your turn to make the Nexus 5 please do not give us a glass backing, thanks.
Do you think it is Sony's turn to have a piece of the Nexus pie? Please do let us know what key specifications you would like to see on the next instalment, thanks.