Apple iPad 128GB on sale to narrow Surface Pro gap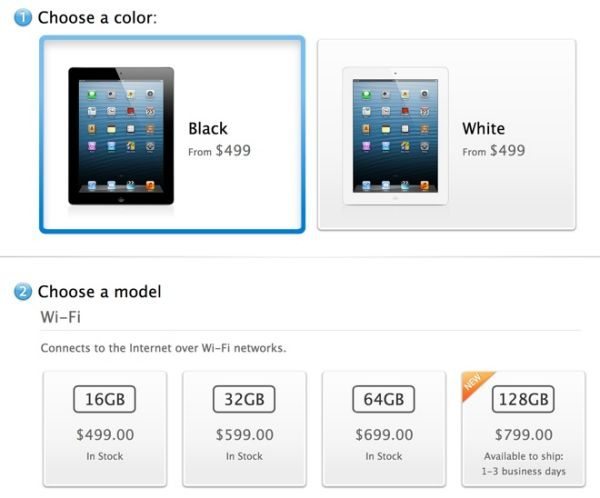 This is just getting silly now Apple, yes we are pointing the finger at you fruity for releasing yet another tablet so soon. The new Apple iPad 128GB is now on sale via the Apple Store in both UK and USA and we believe it is too soon, the iPad 4 as we all call it was only released 6 months after the iPad 3 and this left a lot of iPad 3 owners a little ticked off.
So what happens to all the iPad 4 owners who purchased the 64GB model, this was the highest in storage capabilities and if consumers wanted as much storage as they could get they had no choice but to purchase this model, and now Apple release the 128GB version, surely this is not good news for those that purchased the 64GB model.
We had already reported about the price for this new storage bump up model last week, and now we can confirm the official pricing. The Wi-Fi only version is now on sale for $799.00 (£639.00) and the Wi-Fi + Cellular is priced at $929.00 (£739.00), The 64GB Wi-Fi only is priced at $699.00 (£559.00) and the Wi-Fi + Cellular 64GB is $829.00 (£659.00), so the price difference between the 64GB and the 128GB is $100 on both Wi-Fi only and Wi-Fi + Cellular.
The iPad 128GB is double the storage size of the previous model, still comes with Retina display and has no difference in specs other the obvious.
We cannot sit here and say Apple and Microsoft are major rivals, but it seems a little strange that Apple has just released the new 128GB iPad just before the release of the new Microsoft Surface Pro. Is the Surface Pro the main rival and competitor for the iPad 128GB? The windows devices has a touchscreen, can run apps has the same 128GB storage option and has a few in and out ports. Seems all a bit funny and comprisable if you ask us.
Anyway, you can go purchase the new iPad 128GB via the Apple Store, please click on the relevant country — USA / UK