Vine make a scene app 1.0.5 update & new age restriction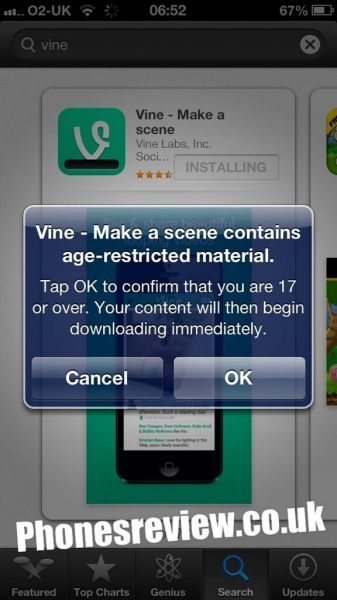 We've previously posted about the Vine — Make a scene app for iOS devices and this is an app that seems to have quickly taken off. This social networking Twitter video app features video shots of six seconds or less and enables users to share their lives with loved ones. The Vine app already received an update last week and today we have news of another update to version 1.0.5 along with a new age restriction.
We noticed when installing the update that before downloading the app now, a new age restriction message appears saying "Vine — Make a scene contains age-restricted material. Tap OK to confirm that you are 17 or over. Your content will then begin downloading immediately." This seems to us to be a sensible move given the nature of Vine with some adult content and should satisfy a lot of people who might otherwise have had concerns.
As for the update to version 1.0.5 it includes an option to share to Twitter or Facebook after posting by simply finding the relevant post and tapping the "…" button at the bottom right. Users can also choose to report or block a profile by going to the profile and then hitting the "…" button, this time in the top right. There is also a fix for a problem that caused a black screen to appear or uploads to fail along with other bug fixes.
The Vine — Make a scene app can be found at iTunes here. It's a free app for iPhone 3GS, iPhone 4, iPhone 4S, iPhone 5, iPod touch (3rd generation, 4th and 5th generation), and iPad running iOS 5.0 or later and it has been optimized for the iPhone 5. At present those with devices using the Android platform are still waiting for the Vine Make a Scene app for Android.
What are your thoughts on Vine and this latest update from the App Store? Do you think the new age restriction is a good idea? Send your comments to tell us what you think.