My time with the Samsung Galaxy S3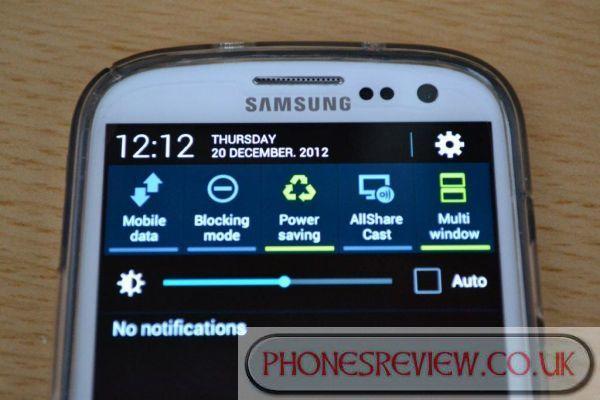 A few months ago I decided to treat myself to a new smartphone after owning my previous device for two years, which in the smartphone world is a long time with technology moving forward at a rapid rate. After spending a while looking at the options available I plumped for the Samsung Galaxy S3 and my time with the handset so far has been great.
The handset it replaced was the HTC Desire HD that I purchased from launch and the device never let me down and is still working fine now. I looked at what Apple had to offer with the iPhone 5 and quickly decided it wasn't for me, so had to make a decision between the Galaxy Note 2 and Galaxy S3.
After looking and holding the two handsets up close I picked the Galaxy S3, and that is only because for me the Note 2 was just too big when put into my pocket, and at the time the unlocked price for the S3 was over £100 cheaper.
Once my handset arrived it still had Android 4.0 ICS installed so almost instantly I updated it to Android 4.1.1 Jelly Bean. Not using the handset much while running ICS I can't from personal experience say how much better Jelly Bean was on the handset, but obviously it was a big step up from the 2.3 Gingerbread that was on my old phone.
Shortly after Samsung released 4.1.2 Jelly Bean for my unlocked Galaxy S3, and this firmware update has brought me the best experience so far on a smartphone, and that includes friends iPhones I have used in the past.
The Multi-Window feature is really useful allowing me to run two applications at once, but realise it would be even better on the Note 2. I do find though that I have to disable then re-enable the option every now and then from the notification bar to get it to work.
Another neat feature is being able to swipe the hand across the display to take a screenshot to be saved to the gallery, and the display is pretty impressive as well. Being a football fan I often use the Sky Go app to catch all the latest news via Sky Sports News with a great picture.
I have also found the battery life to be more than adequate for own personal needs but I don't always have either Wi-Fi or 3G switched on, but when I do it has never completely drained down on me. So far I'm and very pleased with my decision on getting the Galaxy S3 with no regrets as I look forward to the next Android update.
Do you own the Galaxy S3 and what are your thoughts on it?