Samsung Galaxy S3 Ultrafast with full DC-HSDPA and LTE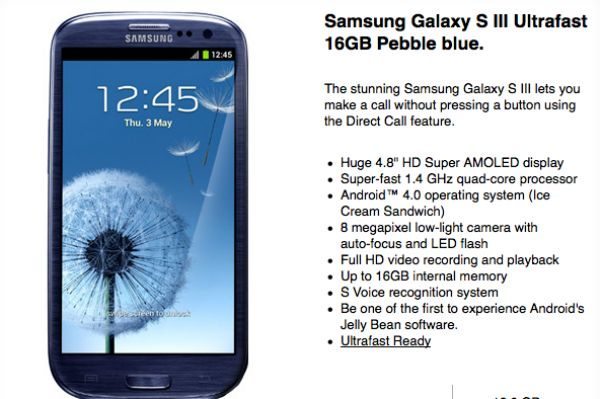 We all know that the Samsung Galaxy S3 smartphone is a very popular one with consumers, so how would you feel about this handset with Ultrafast at the end. Three UK has given us another blend in the form of the Samsung Galaxy S3 Ultrafast; this one is much different and mainly distinguished from the HSPA+ version.
Three UK is now selling the Samsung Galaxy S3 Ultrafast with full DC-HSDPA and LTE capabilities, this means consumers will get even faster data speeds that will be a whole lot quicker than the normal 3G model.
This new baby will be a lot quicker as said and can be purchased in Pebble Blue or Marble White, it still features the awesome 8MP camera and quad-core processor, you are just going to be blessed with super speeds. The cheapest price Three UK offers is an upfront cost of £29 for the Samsung Galaxy S3 Ultrafast and then £34 per month, and this gives you the 'Ultimate Internet 500 Plan' offering All-you-can-eat data, 500 minutes and 5,000 texts on a 24-month contract. If you wish to buy the phone without contract then dig deep into your pockets or purses to shell out £449.99 for the Pay As You Go option.
Please visit Three UK if you fancy purchasing the Samsung Galaxy S3 Ultrafast on the faster network, you can buy right now online or via stores from 12th February.
Just so you all know, Three UK offers the Ultrafast network and is at the moment supported by DC-HSDPA technology and covers around 55% of the UK population with a focus on 50 towns and cities, the hope is to reach 80% of the population coverage by the end of March 2013.
Will you be heading on over to Three UK to buy the Samsung Galaxy S3 Ultrafast?