T-Mobile Nexus 4 & Verizon Droid DNA enters sub-$50 club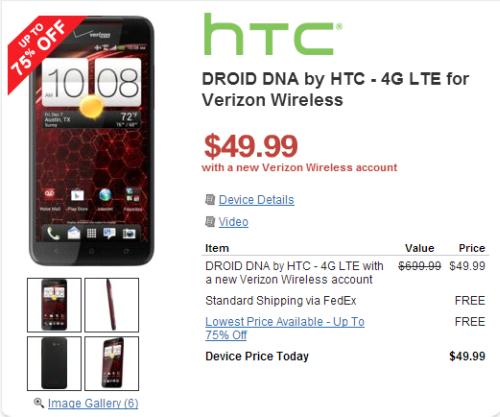 If you are after the latest modern smartphone you will have to expect to pay a premium price for the device even if its via a mobile carriers two year contract. Although if you can wait a few months we often see prices come down with some good deals to be had, and now the Verizon HTC Droid DNA joins the T-Mobile Nexus 4 in the sub $50 club.
Last week we told you about the offer US carrier T-Mobile is offering on the Nexus 4, which can be had for only $49.99 after a $50 mail in rebate. This offer still has five days to go and ends on the February 18th, but if the LG Nexus 4 is not your thing how about the HTC Droid DNA?
At the time of writing online retailer Wirefly will sell you that handset for the same $49.99 price that even includes shipping. This offer is only open to new customers that agree to a new two year contract on Verizon Wireless, which will surely tempt many.
For your money you get a device that features a Full HD 5-inch display with 441ppi pixel density powered by a quad core processor clocked at 1.5GHz. Other features include 16GB of non-expandable memory, 2GB of RAM, 8 megapixel rear camera, and a 2.1 megapixel front facing shooter.
That's an awful lot of phone for your money and the display is one of the main features that pulls Android fans towards the handset. It is not known how long this deal will run for and can be found here.
Will you be getting either of these handsets at this price?