Mailbox by Orchestra iPhone app reviews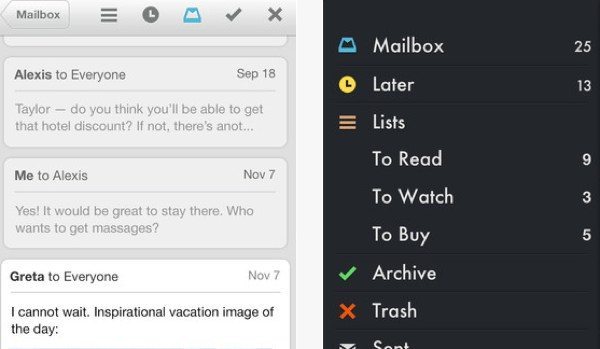 A couple of days ago we wrote about the new Mailbox by Orchestra iPhone app. This productivity app for iOS devices is a tool to help you organize your email efficiently and although it's aimed at heavy email users it's really suitable for everyone who emails. The app is a little unusual in that it has a reservation system so you have to wait in line to be able to benefit and today we thought we'd take a look at some of the review verdicts on the Mailbox iOS app.
You may want to check out our earlier Mailbox post to find out more details on the app, which so far is available for Gmail although more platforms will be added. We also discussed whether the reservation was a gimmick or not. The Mailbox app is available from iTunes here and is compatible with iPhone 3GS, iPhone 4, iPhone 4S, iPhone 5, iPod touch (3rd, 4th and 5th generation) and iPad running iOS 6.0 or later and it's optimized for iPhone 5. It's a free app and a look through customer reviews on the app description finds it has been highly rated by most users, but what do those in the know have to say about Mailbox?
A review on Gizmodo ranks the Mailbox app with 3.5 from 5 stars. Although it's described as an easy way to simplify and organize your email it also points out that although some will find this approach a "saving grace" others will "fume with resentment." The reservation system is described as a "tragic flaw" as many people will just be too impatient for this although others may appreciate the fact that the Mailbox app servers won't become overloaded.
Wireless Week also has a review of the Mailbox app but finds it hard to understand the hype surrounding the app at the moment, saying it's "only a hair better than the Gmail experience it aims to improve." Although some features of the app received praise such as its swipe gestures and integration with Apple Notes, it's suggested that the reservation system is a clever marketing ploy whereby people may feel that if they have to wait for something it must be really good.
On to a Paste Magazine review, a very comprehensive look at how the app can be used and one that is extremely favorable about the app. As well as features of the app receiving praise it's also described as "the fastest and most simple mail client available" and one of the most "effective productivity apps" the reviewer has ever used.
Another review features on Gizmag describes the reservation system of Mailbox as a "drawback" but also says while this is frustrating it's also fair. It also mentions the limitations of the app because only Gmail is supported so far but ultimately the Mailbox iOS app is described as "the best iPhone email app" the reviewer has used.
It's a pretty mixed bunch of reviews then for the Mailbox app but the common link is that many of them have good things to say about the features of the app but reservations about the reservation system (excuse the pun!). We'd like to hear your thoughts on the Mailbox iPhone app. If you are already using the app is it worth waiting in line for? Maybe you'd like to try the app but just can't be bothered with reserving a place for it? Send us your comments on this.