Staples US to stock Apple goods, corporate expense gains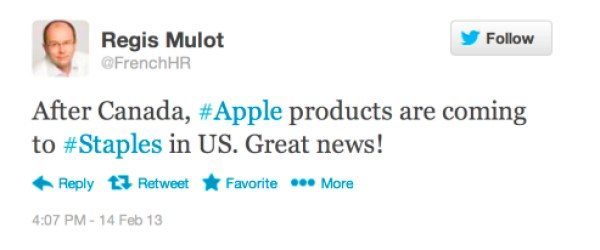 There's big, big news for Staples today as it has emerged that its US stores are soon to begin stocking Apple goods. The significance of this deal for Staples cannot be underestimated and Apple will also benefit of course, notably as more Apple products will be available in a retail chain that millions of people with corporate expense accounts shop at. This one sounds like a good deal all around then.
There were previously some rumors regarding Staples possibly selling Apple items when its website in the US briefly showed a page ad for Apple TV. The new Staples and Apple partnership was finally confirmed yesterday after a meeting where Staples executives are said to have shared the news with employees. The Twitter airwaves were soon buzzing with the posts from Staples staff passing on their delight at the good news.
One tweet came from Staples' Senior Vice President of Global Human Resources Regis Mulot who posted, "After Canada, Apple products are coming to Staples in the US. Great news!" Another of the tweets posted came from Erin LaFlamme a Strategic Accounts Coordinator who posted, "Thanks Apple for letting Staples sell you," and added thanks for the celebratory Apple products. Very nice too!
It has not been confirmed which products Staples will sell but apart from Apple TV, rumor has it that the complete Mac lineup and also mobile devices such as the iPhone and iPad will be on offer. There's also no firm date for when this move will begin but we'll be keeping in touch with developments. Good news then for Apple, Staples and of course customers who will have an extra option for purchasing Apple devices.
Are you pleased to hear that Staples will soon be carrying Apple products? How much difference will it make to Apple to gain access to millions more corporate expense account users? Why not send us your comments about this deal.
Source: 9to5Mac