LG Optimus G Pro US availability & specs revealed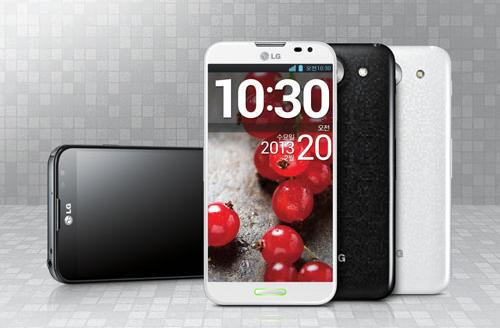 Most of the news surrounding LG in the smartphone world recently has been about the stock levels of the Nexus 4, but the company is set to offer consumers around the world some other nice handsets in the coming months. Now the LG has officially revealed the availability and specs of the Optimus G Pro in the US and other regions.
A few days ago the company teased some official images of the handset and have now released some more details about the handset including its availability away from its home market of South Korea. The LG Optimus G Pro is down to arrive in other areas such as the US and Japan during the second quarter of this year, which comes ahead of the Mobile World Congress where the company are set to reveal some lower spec hardware.
To recap the smartphone has a 5.5-inch Full HD AMOLED touchscreen display, and will be the first handset to use the new quad core Qualcomm Snapdragon 600 processor that is clocked at 1.7GHz. The company are equipping the device with an impressive 3,140 mAh battery unit that will provide plenty of battery life despite the size of the display.
The handset measures in at 150.2mm x 76.1mm x 9.4mm and other features include a 13-megapixel rear facing camera with LED flash, 2.1-megapixel unit on the front, wireless charging, 2GB of RAM, and 32GB of internal memory that is expandable by another 64GB via a microSD card.
LG has also revealed that both of the cameras on the handset can be used in a dual recording mode that allows owners to capture video on both cameras at the same time, which will provide a "unique picture-in-picture experience".
While there is no exact date given for the handsets release or availability outside its home country, the handset may not be too long away along with its impressive specifications.
Do you like the look of the LG Optimus G Pro?
Source LG via Google Translate.