LG Optimus G Pro vs Samsung Galaxy Note 2, phablet battle
The birth of the phablet device back in 2011 has seen a growing craze for larger screen smartphones that offer consumers the perfect device, and can often do away with the need of carrying around both a tablet and a smartphone at the same time. Today we are looking at the new kid on the block the LG Optimus G Pro against the current market leader, the Samsung Galaxy Note 2.
Since its release in the second half of last year the Galaxy Note 2 has gained a good reputation from reviewers and owners alike, and rightly so as the device has some great features packed into its shell. Now though there is another new handset due to be released in the coming few weeks in the shape of the LG Optimus G Pro, which gives consumers another phablet to choose from.
Display
The Galaxy Note 2 has a 5.5-inch Super AMOLED HD display with 1280 x 720 resolution and 267ppi, while the upcoming Optimus G Pro has a 5.5-inch True HD-IPS + LCD capacitive touchscreen display at 1080 x 1920 resolution and 401ppi.
Processor & Power
The LG Optimus G Pro is the first handset to be powered by the 1.7 GHz quad core Snapdragon 600 processor from Qualcomm, with 2GB of RAM, while the Note 2 has the quad core Exynos processor clocked at 1.6Hz, also with 2GB of RAM.
Storage
Samsung's Galaxy Note 2 comes in 16 GB, 32GB, and 64GB of built in storage that is expandable by up to another 64GB via a microSD card. The Optimus has 32GB of on board storage with no option to expand this further unfortunately.
Camera
The Note 2 comes equipped with an 8-megapixel rear facing shooter while around the front is a 1.9-megapixel unit, which compares to the Optimus Pro G that uses a 13-megapixel shooter on the back with a 2.1-meagpixel unit on the front.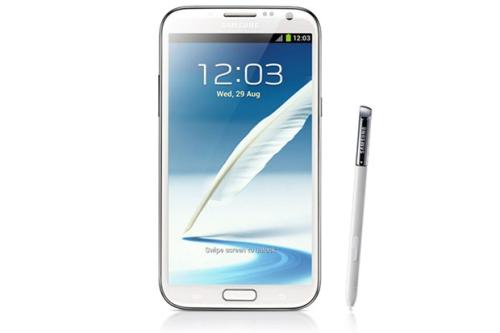 Battery
Owners of the Galaxy Note 2 have praised the handsets battery life with the device powered by a 3,100 mAh unit, while the G Pro is equipped with a 3,140 mAh battery pack as well as wireless charging.
Dimensions
The Galaxy Note 2 measures in at 151.1mm x 80.5mm x 9.4mm and weighs 183 grams, which compares to the Optimus Pro G at 150.2mm x 76.1mm x 9.4mm weighing 160 grams.
Obviously the LG has some higher specifications compared to the Note 2 as it is a newer handset, and is not expected to arrive in regions outside of South Korea until the second quarter of 2013, and later this year thoughts will be then turning to the Galaxy Note 3.
Do you plan to purchase the LG Optimus G Pro?