Acer Liquid E1 & Liquid Z2 first for 2013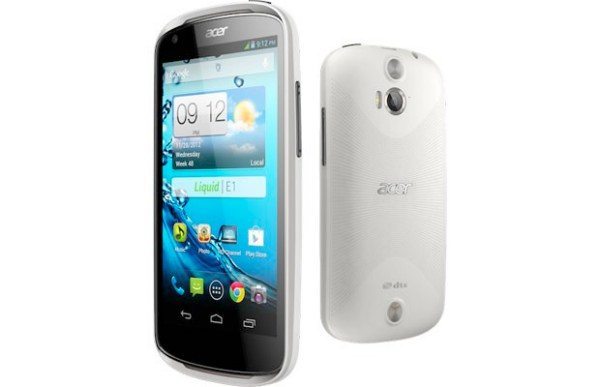 We have news for you today of two just officially announced smartphones from Acer. They are the first two phones from Acer this year and they are the Liquid E1 and the Liquid Z2. We previously mentioned the mid-range Acer Liquid E1 and it has now been made official for Europe. We also have news on the Liquid Z2, which is more of an entry-level handset.
We imagined we'd hear more about the Liquid E1 at MWC in Barcelona later this month but Acer snuck in early and we now have some initial pricing for the phone. It has a 1GHz dual-core processor, 4.5-inch qHD display and runs Android 4.1 Jelly Bean. Aimed at being multimedia-friendly it totes two speakers with DTS sound along with software dubbed Float that stops notifications appearing when you're viewing videos. Interestingly it also has dual or single-SIM configurations, which will be useful for those who like to keep their work and personal phone use separate.
Other specs of the Liquid E1 include a 5-megapixel rear camera and 0.3-megapixel front-facing camera, WiFi 802.11 b/g/n, Bluetooth 3.0+ EDR, 1GB of RAM and a 1760mAh battery.
Although Acer has not yet officially confirmed the price for the Liquid E1 it has given an estimate of between €199 and €299. Initially the Liquid E1 will release in France, Belgium, Netherlands and Ukraine and will then launch in the UK, Russia and Italy at a later date.
Then we have the Acer Liquid Z2, powered by a 1GHz dual-core processor and with a 3.5-inch HVGA display. It comes with dual or single-SIM and your choice of either a 3-megapixel camera or 5-megapixel camera. The Z2 also has 1GB of RAM and this time a 1300 mAh battery and also runs Android Jelly Bean. The price of the Liquid Z2 is anticipated to be between €99 and €129 and it will go on sale first in the same countries as the Liquid E1 mentioned above, with the others following later.
No doubt we'll be seeing and hearing much more about both of these phones at MWC beginning on February 25 through 28. Do you think you could be tempted to purchase either of these two new Acer smartphones? Let us have your comments.
Source: Engadget