HTC One case accessories, official style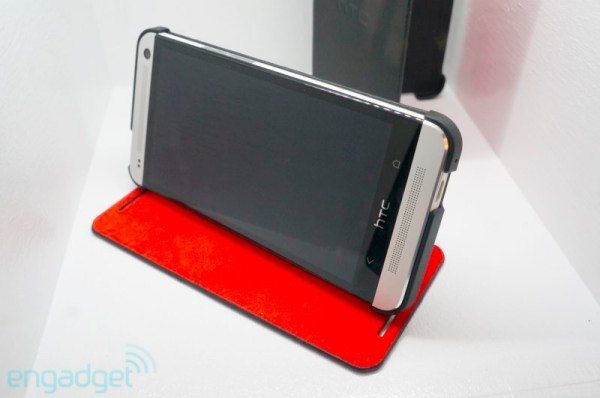 So the HTC One superphone was finally officially unveiled yesterday and what a beauty it is. We had always suspected this was going to be a hugely impressive device and the specs and the styling of this phone did not disappoint us. Its release is coming in March and if you've already decided this is your next smartphone then you may be pleased to hear news of accessories, in particular some official very stylish cases from HTC for its new flagship.
We've already given readers all of the official specs for the HTC One so if you want more details on the phone and some initial availability and price info then hit the relevant links. HTC also introduced some accessories for the HTC One with two case series' being shown alongside the phone at the announcement event.
The first case will also act as a stand for the HTC One and is a foldable cover with a leather finish that will give good protection to the corners and edges of the HTC One. The back also folds into position to create a horizontal stand, handy for extended viewing. An alternative style of case is a plastic cover with two-tone color. Users will be able to remove and swap the end pieces to give their phone a different look as it suits them.
HTC has not yet given details of pricing or availability for these new HTC One cases but we imagine they will arrive when the phone itself hits the shelves. In one more snippet, HTC said that an in-car mount for the HTC One is also on the way. While we're waiting for this ultra-desirable phone and accessories to arrive you may want to check out our HTC One vs. Galaxy S3 comparison.
We'll pass on more details on accessory pricing and availability as we hear it. Have you been won over by the HTC One? If so do you like the sound of either of these case options? Let us know with your comments.
Source: Engadget