iOS 6.1.2 released without substantial changes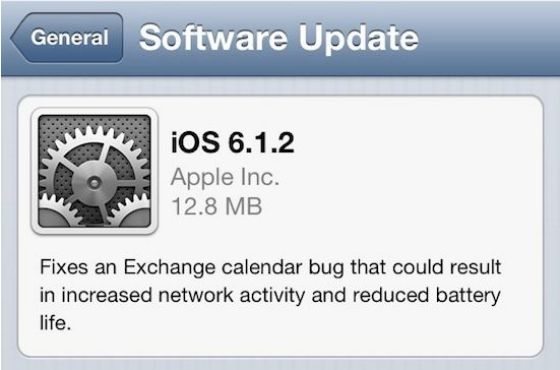 Yesterday Apple released it's new iOS 6.1.2 and it comes without substantial changes, this update is to merely fix the Microsoft Exchange calendar and apparently the Passcode Bug, which many of our friends and sources came forward and said it does not fix the Passcode Bug but does sort the Exchange problem.
The Exchange bug increased the network usage as well as affecting the battery life and the iDevices performance, if you look at the software update screenshot above it says that it fixes the Exchange calendar bug that could result in increased network activity and reduced battery life and that it is 12.8MB in size. If you go into your iPhone's settings and then into General just click the software update to begin the install, you will notice after agreeing to the terms and conditions a pop up message says "I agree to the iOS and Game Center Terms and Conditions and the Apple Privacy Policy", just click agree and off you go. Make sure you have 50% or more battery to continue, it is best to connect the charger really.
The Exchange has been seeing problems for a while now, such as declining meeting invitations and many more, such as with the Exchange meeting management that had users seeing a constant loop between devices running iOS 6.1 and the Exchange servers while trying to sync the recurring calendar meeting invitations, this led to a momentous drop in performance on devices.
Please do let us know if you had the above issues and if the new iOS 6.1.2 update has fixed these problems, we would love to know if it has fixed the Passcode Bug as well?