Asus FonePad sleek tablet confirmed, what, when and how much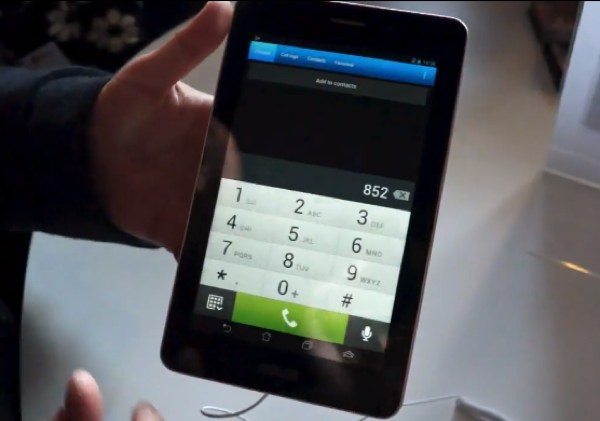 It may only be the first day of MWC 2013 but news continues to pour out from the event in Barcelona. A few weeks ago we discussed a device called the ASUS FonePad, a 7-inch tablet/phone hybrid. We hoped we may hear more about the device at MWC and lo and behold ASUS has now announced the FonePad and we have the confirmed details including what, when and how much.
In essence the ASUS FonePad is a tablet with in-built phone functionality and many of the rumored specs have turned out to be accurate. Those include a 1.2GHz Intel Atom Z2420 processor, PowerVR SGX540 graphics, a 7-inch IPS display with resolution of 1280 x 800, 1GB of RAM and 16GB of internal storage, expandable via microSD .
The FonePad has an HSPA+ radio, 3-megapixel rear camera and 1.2-megapixel front-facing shooter and for those of you who are heavy users of your devices you'll be pleased to learn that there's a 4270 mAh battery for runtime up to around nine hours. Looks-wise the Fonepad appears pretty decent and has a sleek metal back that comes in gray or gold. The antennae are under a panel on the reverse where the micro-SIM and microSD reader are also hidden away.
The metallic tablet is also lightweight and slim weighing in at only 340g and measuring 10.4mm thick according to the press release. The ASUS FonePad is set to be released in late Q2 in the UK priced at £179 (€219) and ASUS also stated a price for the US of $249 despite the fact that rumors have said it might not release stateside. You may want to take a closer look at the ASUS FonePad and you can do so by checking out the hands-on video that you can see below this story.
You may also be interested in our earlier post today about the new Asus PadFone Infinity. Will you be waiting for the Asus FonePad to come to your region? If you're in the US are you hoping that it will release there?
Source: Engadget