Google Settings app icon mystifies some Android users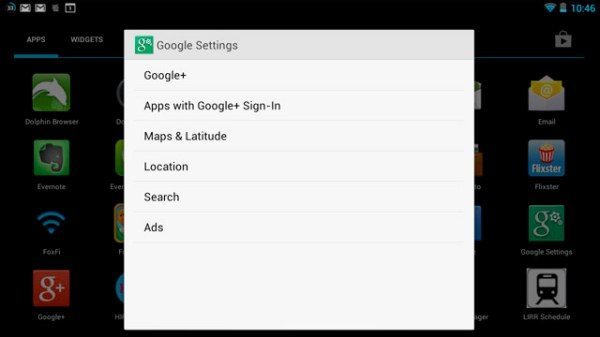 We always like to bring readers details about popular apps and today we have some news on an app that has been mystifying some people by appearing out of the blue on their mobile devices. The Google Settings app icon has been popping up on Android smartphones and tablets but it's not an app you'd go to the Google Play Store for. Read on to find out what the Google Settings app is all about.
The first thing to do is to reassure readers that the Settings app icon is nothing to worry about (although some people are not happy at how it can just appear) and that there is a reason why the app has appeared on many people's devices, so bear with us while we explain more. Some of you may have heard about Google sign-ins for app and Web developers. This enables them to sign-in with Google credentials and means that, much as with Facebook sharing, when an app has been integrated with sign-in then data can be shared to Google+ from it.
This new system entails that apps on your Android device be made compatible with it and this is done with an update to Google Play Services. The device user need not be aware of this at all as it is all humming along nicely on its own but when the update has taken place the new Google Settings app icon has appeared and made some people what on earth is going on. The app itself is really just a collection of shortcuts to your Google account settings screens.
If you do choose to launch the app you'll see shortcuts to Google+ settings, Search, Ads and more, as well as a new Apps with Google+ Sign-In option. However you can still access all of these in other ways, just as you did before the mysterious Settings app icon appeared. The new Sign-In option though helps you to keep tabs on the sign-in apps that you may have allowed to share info via Google+. If you tap on a listed app then that access is denied again.
It appears that every Android device user will see the Settings app icon appear sooner or later as it's rolling out over several days. You can also force the update by heading to Settings>Apps>All and removing Google Play Services data and then restarting your device.
We'd like to know if you've spotted the Google Settings app icon and wondered how and why it got there? Maybe you're concerned that an app can appear on your device with no forewarning? Let us have your comments on this.
Sources: Lifehacker AND Cnet