Samsung Galaxy S4 big week of leaks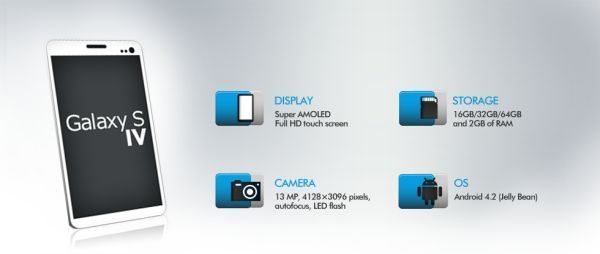 It's been a busy week for Samsung Galaxy S4 leaks already. The big headline of today was a purported press render of the Galaxy S4 that was posted to Twitter by @evleaks, an account that in general posts very high quality, accurate images.
Unfortunately, the image provided was in fact just a render developed by electronic retailer Expansys, who needed a placeholder image and specifications for the upcoming phone. The @evleaks Twitter account has since taken down the offending tweets, no doubt hoping that we'll all forget it posted them in the first place!
The second story of the week is now by default the more interesting one – some really detailed specifications of the Galaxy S4, courtesy of popular Android benchmarking application AnTuTu.
Let's get right into those specifications. According to the benchmark, the Galaxy S IV will be using an Exynos 5 Octa 5410 chipset, which uses ARM's big.LITTLE architecture. That means there's eight cores on chip: four high performance A15 cores (we saw two of these in the powerful Nexus 10) as well as four high efficiency A7 cores. With both sets of cores working in tandem, the Galaxy S4 should offer a good mix of battery life and unparalleled performance. The octa-core CPU is also joined by a PowerVR SGX 544MP GPU, which should offer improved graphics performance over the Mali GPUs used by earlier Galaxy S models and Apple's iPad.
Elsewhere, it's much as imagined – a near five-inch display running at Full HD (1920 x 1080p) resolution. There's a front-facing 2.1-megapixel camera with a 13-megapixel camera on the rear. Memory is standard at 2 GB, while storage is either 16 or 32 GB. The software on board will be Android 4.2, potentially making the Galaxy S4 the first non-Google smartphone to get the update.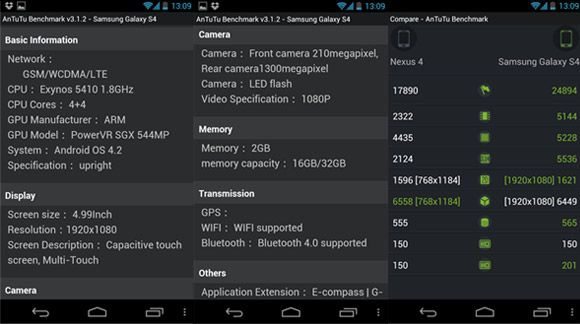 All in all, performance in the benchmark is equal or better than the Nexus 4, despite the much higher display used in the S4. It'll be interesting to see how the phone shapes up against what will be its two main rivals, the HTC One and the Sony Xperia Z.
It's unlikely that we'll see much more of the phone before its announcement. While some third-party cases for the Galaxy S4 have shed some light on its purportedly boxy shape, it's doubtful that we'll get a full press photo given Samsung's incredibly high security.
What do you think of the leaks – are you interested in picking up the Samsung Galaxy S4? Let us know in the comments. Thanks for reading and have a good day!