Ducati Challenge Android update, iOS catch-up time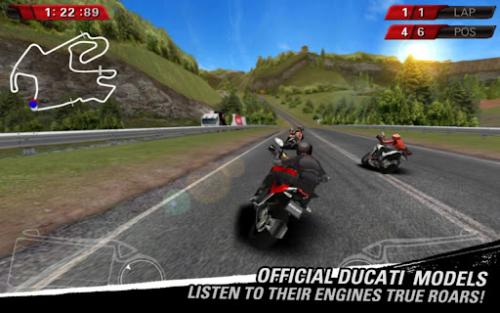 There are a number of car racing games available for mobile devices, but if you prefer two wheels you are limited to mainly ported titles that are not that great, but Ducati Challenge has seen an Android update as well as being free, but iOS users have to play catch up time.
Fans of car racing titles were recently treated to Real Racing 3 that is a great game, but bike fans don't have many good titles to choose from, and the ones available can be either ports or remakes of old games that don't really cut it now.
Ducati Challenge is different though as it adds an arcade feel to a simulator type game, and with this offers some stylish graphics and animations. If you want just to take part in a quick race you are covered, but there is also other options that allow you to take part in championships on a variety of Ducati motorcycles.
The recent update has reduced the size of the app to 180MB from 400MB, so the game will take up less space on your device, touch control issues have been fixed, performance and loading have been enhanced, better device compatibility has been added, the loading of tracks bug has been removed, and other minor bugs have been addressed.
Ducati Challenge for iOS users hasn't seen an update since last October and is currently priced at £1.49/$1.99, although there is a free version available. After playing the game for a short time it does look good although not to the levels of Real Racing 3, and the controls are not as good either, but for a bike game it plays well, but having the full version of the game free on Android will please many users.
Have you got Ducati Challenge installed on your mobile device?