AT&T Galaxy Note 2 now a bargain price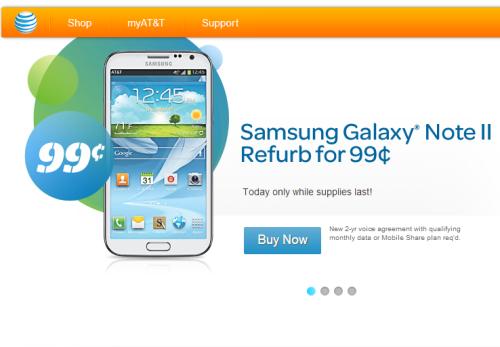 The Samsung Galaxy Note 2 was one of the standout smartphones that was released last year, and the device is still easily holding its own today. If you are still thinking of picking up this great handset and are a customer of US carrier AT&T, the Galaxy Note 2 can now be had for a bargain price.
AT&T currently has refurbished examples of the Samsung Galaxy Note 2 available as an online only deal for only 99 cents, as long as it is taken with a new two year contract. You still get the same handset with its 5.5-inch HD Super AMOLED display powered by a Super-fast 1.6GHz quad-core processor with 2GB RAM.
While this week Samsung will be unveiling the Galaxy S4 the Note 2 remains a firm favourite among many smartphone fans, who wouldn't consider trading in their phablet device until the Galaxy Note 3 becomes available later this year.
Consumers looking to pick up the handset from AT&T on this special promotion can have the device in either Marble White or Titanium Gray, and the refurbished handset is promised to be as good as new as well as being good for the environment.
The carrier only offers a ninety day warranty on the handset though and the deal is only available today and via the company's online stores, but it certainly seems a cheap way to get hold of the Samsung Galaxy Note 2.
Would you get a refurbished smartphone from AT&T?
Source: AT&T.