HTC One battery tests impress, beats competition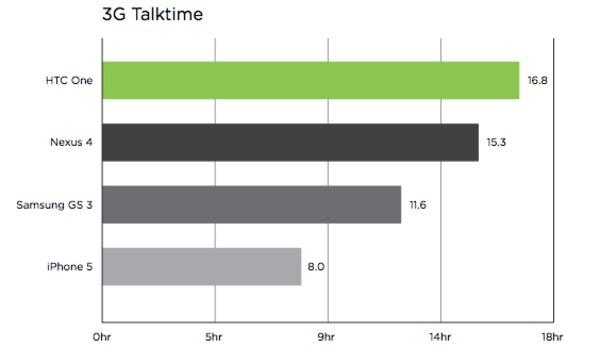 With all the new high specifications that modern smartphones are coming with, users can sometimes find the battery life of the handset doesn't quite meet expectations, but some HTC One battery tests look impressive as it beats the competition.
HTC smartphones have not always been the best for battery life, and personally I could sometimes have issues with the Desire HD that I used to own, but it seems the company is onto a winner with the HTC One.
Many HTC handsets now feature uni-body designs that make the batteries installed inside them un-removable, but the 2,300 mAh unit found inside the HTC One has returned some impressive figures in testing. It was found to provide almost 17 hours of 3G talk time and lasted an impressive 8 hours and 32 minutes during constant video playback.
With these sought of figures it doesn't seem that owners will have too much trouble going all day without reaching for the charger. The length of talk time compared to 15.3 hours on the Nexus 4, 11.6 hours on the Samsung Galaxy 3, but the Apple iPhone 5 came in behind at only 8 hours of 3G talk time.
When you consider the HTC One has a Full HD touchscreen display it makes these figures even more impressive compared to the other smartphones, and the version of the HTC One that was used wasn't running the final version of the operating system, so whether the battery life would stay the same or change either way remains to be seen.
This news comes after we recently told you that there may be some shortages of the handset at launch because of the camera specs, and some areas may not see the device for a couple of months yet.
Are you impressed by these battery life figures?
Source: Expert Reviews via Phone Arena.