Prey app for iOS & Android, anti-theft tracker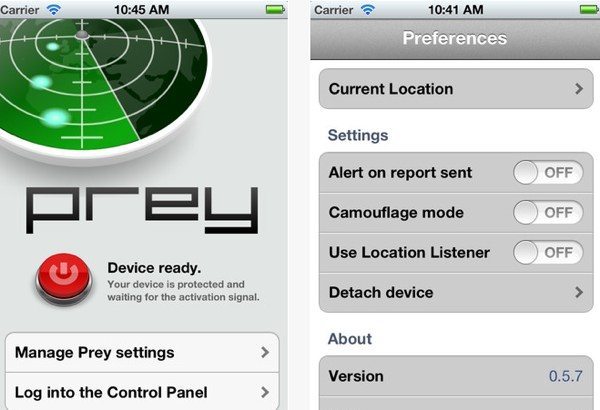 At Phones Review we try to keep readers informed about some of the very best mobile apps available and some are particularly useful. Take the Prey app for iOS and Android devices, which is an anti-theft tracker that is extremely valuable if you have your smartphone stolen, or indeed simply lose it all by yourself. We have full details of the Prey Anti-Theft app for you so read on for more.
For most people the loss of a smartphone can actually be quite traumatic. Although many might say it's only a device, for those of us who go through this we can feel lost without it. The Prey app is free and simply requires online registration and once your account is set up all the benefits of the app are yours. If your smartphone goes missing then you simply report the loss via a PC to set the ball rolling.
Prey Anti-Theft comes from Fork Ltd., and is an open-source anti-theft tracker that works across various platforms enabling the user to keep track of all their devices from one place. The iOS app is compatible with iPhone 3GS, iPhone 4, iPhone 4S, iPhone 5, iPod touch (3rd, 4th and 5th generation) and iPad running iOS 4.0 or later. Supported languages are English, Spanish and German and the app supports GPS + Network-based geo-location (GSM+WiFi). Features of the iOS Prey app include delayed or on-demand activation, alert messages for the user, front-facing camera picture support and a loud alarm sound.
The Prey Android app was last updated on January 23, 2013 and as well as some of the features above includes SIM change detection, SMS or Push activation, uninstall protection, lock privacy and more. Again this is a free app and this one is compatible with devices running Android 1.6 or later, although some of the features mentioned here require 2.2 or later.
To find out more or to download the app head to iTunes here for the iOS version or to Google Play here for the Android app. We'd like to hear what you think about the Prey Anti-Theft app so do send us your comments on this. Have you decided to download the app from Google Play or the App Store? Maybe you are already using this app and could let other readers know if you recommend it?