Sony Xperia Z now free on cheaper UK tariffs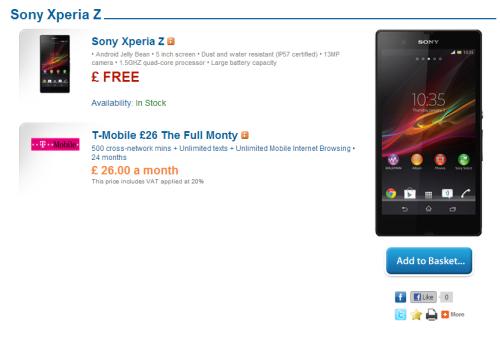 While the world awaits the launch of the next smartphone from Samsung, another great handset in the form of the Sony Xperia Z is already available to many consumers, and now if you live in the UK the device is available free on some cheaper tariffs.
There is no doubt the Sony Xperia Z is going to be one of the standout smartphone releases of this year, and away from its water and dust proofing you are left with a stunning looking phone. The device has already been available on a number of carriers for free, but now a new deal has emerged that will get you the handset for a lower monthly contract price.
Online retailer Buymobilephones.net has put the handset up on a T-Mobile contract costing only £26 each month, with no upfront cost for the handset and on the carriers Full Monty plan. This will provide those signing up to the deal 500 minutes of talk time, unlimited SMS messages and unlimited mobile data.
The handset has been available on some rival carriers for free but these come on contracts that cost from £10 each month more, so this new deal is certainly worth a look if you are considering picking up the Sony Xperia Z on a two year contract with any of the UK carriers.
Are you interested in this Sony Xperia Z deal?
Source: Eurodroid.