BlackBerry to hold launch event in US for Z10 release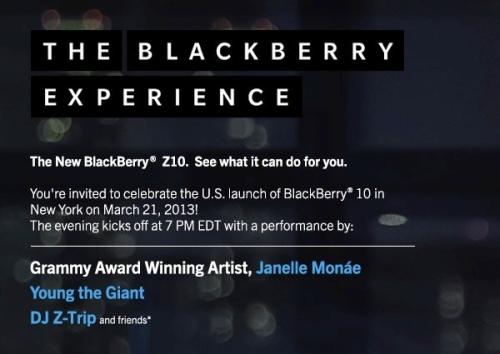 At the end of January the world got to see the new BlackBerry 10 platform at an event that also unveiled the new hardware that will be available to consumers, with the likes of the UK and Canada getting access to the BlackBerry Z10 shortly after. Now we have news that BlackBerry is going to hold another event in the US to celebrate the release of the Z10 in the country.
In a few hours time Samsung will be holding a special event in New York to unveil its latest smartphone and in exactly one week from now in the same city BlackBerry will also be holding a press conference to announce the availability of the BlackBerry Z10.
There has been confirmation the device was coming to some of the country's major carriers for a while now, as we have seen the BlackBerry Z10 appear with Verizon branding ahead of confirmation of its availability. We have also heard about T-Mobiles plans for the handset although its business customers getting the handset first.
The unveiling of the handset at the event comes on day before the BlackBerry Z10 will become available on AT&T, but there is talk that Sprint may be getting a different touchscreen BlackBerry at a later date.
It is not thought the event will get the kind of coverage the original showcase did, but it shows how important the company sees the US market in the future.
Are you planning on picking up the BlackBerry Z10 in the coming weeks?
Source and Image: Cnet.