Galaxy S4 official accessories include cases and more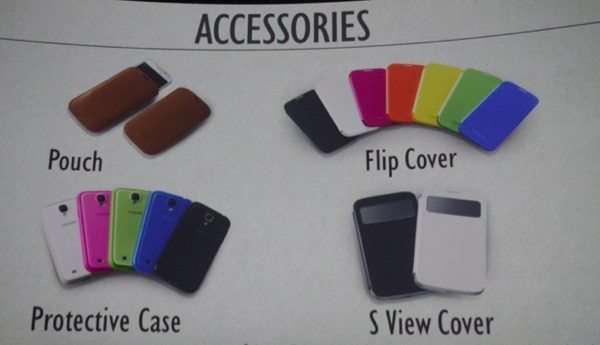 The Samsung Galaxy S4 received its first hurrah yesterday at a special press event. This highly notable smartphone looks set to be another huge success for Samsung and we've already been trying to bring you as much information on it as we can. It's due for release in April so if you aim to purchase the Galaxy S4 we thought you'd like to hear more about some official accessories that will be available for it.
It looks from early indications that the Galaxy S4 could be the biggest phone release yet and when we treat ourselves to a spanking new device many of us like to protect it as best we can. Samsung seems to be on the ball as far as demand for accessories goes as it has already come up with some details of official cases, covers etc. for the Galaxy S4.
So far Samsung has announced 4 cases and covers including the Pouch, the Protective Case, the Flip Cover and finally the S View Cover. The brown Pouch is a good choice for simply sliding your Galaxy S4 into for good all-around protection while the Protective Case will be available in bright colors, is made of hard plastic and offers protection to the back of the phone. The Flip Cover is also in a variety of colors and will give protection to the display of the Galaxy S4 and finally the S View Cover is similar to the Flip Cover but has a cutout that enables you to see Caller ID and other notifications and also answer calls with some level of privacy.
Now onto some other Galaxy S4 accessories and you may have seen our article on the clever new Galaxy S4 S Health feature. Accessories generated from this include an S Band and also a Samsung body scale that can sync with the S Health software. One more accessory that Samsung has shown is aimed at those who enjoy mobile gaming and is a prototype gamepad, similar to that used for the Xbox 360.
There are no release dates yet for any of these official Samsung Galaxy S4 accessories but it's likely that they will appear around the same time as the phone hits the shelves. Also there are no details of pricing but of course we'll bring you further news on these accessories as we hear it. Meanwhile if you want to check out any of our other Galaxy S4 articles head here.
Have you already made up your mind to purchase the Galaxy S4? If so will you be adding any of these official Samsung accessories? Let us know with your comments.
Sources: Engadget AND Phone Arena