Samsung Galaxy S4 pure & simple summary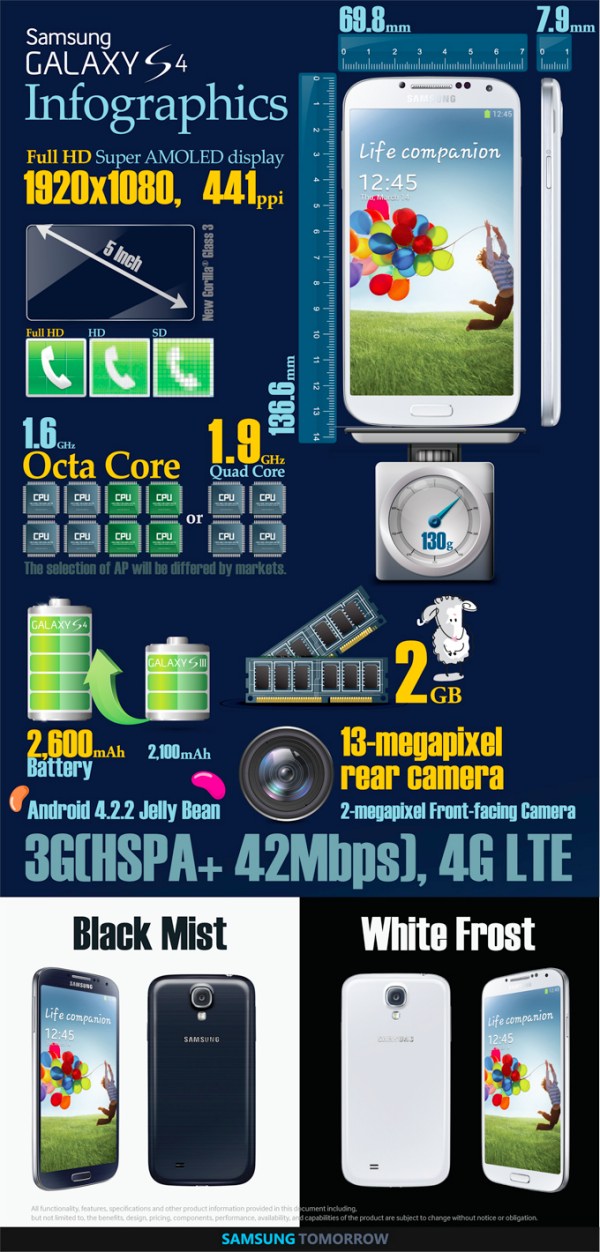 The initial excitement from the event on Thursday that officially introduced the Samsung Galaxy S4 is now starting to fade and we've been endeavoring to bring you as much news as possible about this extremely impressive Samsung device. Now we've found a way to show readers who don't want pages of information to read, a pure and simple summary of the Samsung Galaxy S4.
There's a huge amount of interest in the Galaxy S4, due for a release across various regions of the world in April and Samsung has come up with a great way of showing most of the things you need to know about the smartphone in a clever infographic. At Phones Review we always enjoy a good infographic as it provides information in an easy-to-digest pictorial form and this Galaxy S4 infographic is a fine example of that.
In a very compact form the Samsung Galaxy S4 Infographic (see above) shows display specs, dimensions and weight of the phone, the two types of processor being used, RAM, battery, cellular, camera and operating system details, finally showing the color options of Black Mist or White Frost.
This is an informative way of showing a lot of information in a compact form but if you want to read more in-depth news about the Galaxy S4 then head here where you'll be able to check out our other Samsung Galaxy S4 posts, both prior to being made official and since.
We'd like to know what you think of the infographic and indeed the Samsung Galaxy S4. This looks to be one of the biggest smartphones of the year. Will you be purchasing the Galaxy S4?
Source: Samsung Tomorrow