Temple Run: Oz & Subway Surfers fake Android apps, beware!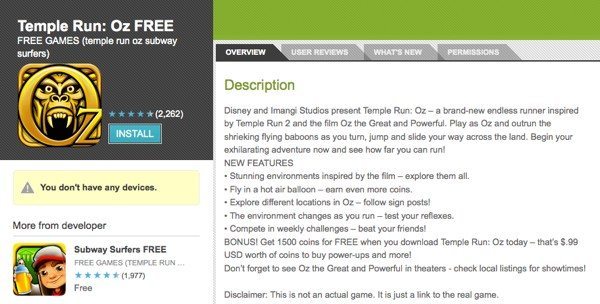 We really enjoy bringing readers news about the latest and most popular apps available but every now and then we hear about some scam apps that people should beware of. Today we have details about Temple Run: Oz and Subway Surfers fake apps on the Android platform and would urge you to avoid these at the Google Play Store.
These are both hugely popular games and no doubt many people may already have downloaded and fallen victim to these fake apps on Google Play. It can be pretty easy to mistake one app for another, especially when they look pretty convincing but make no mistake these fakes should be avoided. These are both free apps (the real Subway Surfers is free but the real Temple Run: Oz costs $0.99) and they pose as links to the real games with a disclaimer that reads, "This is not an actual game, it is just a link to a real game."
Downloading these apps could lead to all sorts of problems though as they could be infected with spyware or malware that plays all sort of havoc with your mobile device or accesses your personal information. For your information the real Temple Run: Oz app is by Disney and is $0.99 while the real Subway Surfers is by Kiloo Games and is free. Meanwhile the FAKE Temple Run: Oz FREE app is by FREE GAMES (temple run oz subway surfers) while the FAKE Subway Surfers FREE app is also listed as being developed by FREE GAMES (temple run oz subway surfers). The image above shows the fake Temple Run app and as you can see at first glance it looks pretty convincing but if you look more closely you can see the odd disclaimer.
We are purposely NOT giving you the Google Play links for the fake apps on Google Play as we don't want anybody to mistakenly download either of them. Please be cautious when downloading gaming apps from Google Play. Generally if there are two different apps with the same name from different developers, one of them is likely to be a fake.
We'd like to hear from readers about this. Have you mistakenly downloaded one of the fake Temple Run: Oz or Subway Surfers Android apps? If so have you noticed any untoward effect on your device? Let us know with your comments.
Source: Phandroid