HTC One vs iPhone 5 lookalike accusations, video shows differences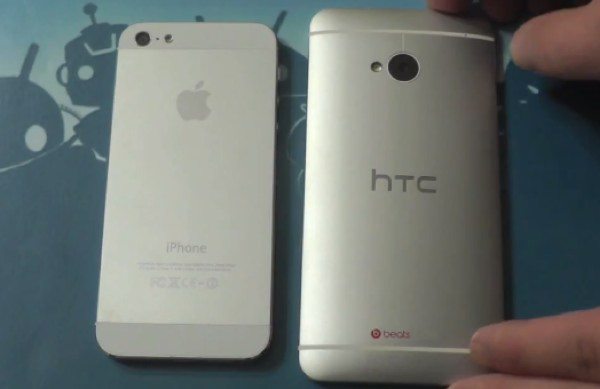 The HTC One and Apple iPhone 5 are both hugely impressive smartphones and are credible competition against each other. The iPhone 5 has been out for several months now but since the HTC One was made official last month and we saw the first confirmed images, many people have accused it of being an iPhone 5 lookalike. Today though we have a look at the HTC One vs. iPhone 5 with a video that shows just how different they really are.
The HTC One is about to hit shelves in many regions across the world and we haven't held back with our enthusiasm about this flagship phone. We think the design and build quality of the HTC One and iPhone 5 are both notable, with both having a premium look and made from top quality materials and we wonder if it's this that has led some to say that the HTC One is just like the iPhone 5, rather than any odd physical similarities.
The YouTube video that we have for your viewing pleasure is a two-minute comparison of the look of both phones and what it really highlights is the differences of the two handsets. For starters the iPhone 5 has a home button on the front and is very boxy in shape while the HTC One is much more curved and of course is much bigger in size too. The video, that you can see below this story, then looks at the bottom, top, and sides of both devices showing how they vary and stresses that the HTC One has a completely different feel to the iPhone 5.
Seeing the two lined up next to each other clearly illustrates the size difference of the handsets as well as the displays with the iPhone 5 screen size at 4-inches and the HTC One at 4.7-inches and ultimately we can see that far from being lookalikes they vary in many ways. When you also consider that the iPhone 5 is an iOS device while the HTC One is an Android smartphone and the differences in specs (such as the 1.2GHz dual-core processor of the iPhone 5 against the 1.7GHz quad-core processor of the HTC One), you can see that there are a lot more differences than similarities between the two phones.
We'd really be interested to hear what readers have to say about this. After viewing the video do you still think the HTC One design is a rip-off of the iPhone 5? Maybe you're a fan of both designs and think that they may have similarities but also have plenty of variation? Let us have your comments on this.