Best Galaxy S4 cases with style from Belkin & Otterbox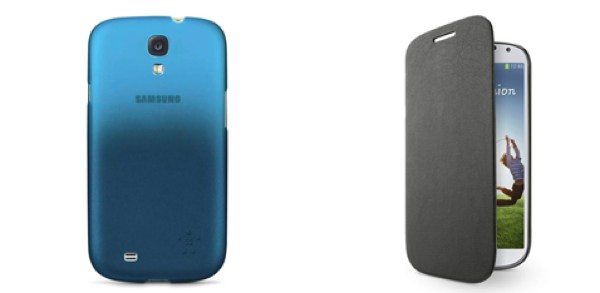 Now that the Samsung Galaxy S4 has finally been officially announced many of us are considering accessories so that we can keep our new device protected when it's released next month. Some of the best Galaxy S4 cases will undoubtedly come from major accessory manufacturers OtterBox and Belkin, both high-profile names in the mobile accessory world. We have some details for you today of some of these stylish cases.
There will be plenty of choice of Samsung Galaxy S4 cases from both of these manufacturers. Belkin for instance has eleven cases on the way from as low as $24.99 working their way up to $49.99. These cases are expected to release in April, probably at around the same time as the launch of the phone itself.
The Belkin Galaxy S4 cases include examples such as the Grip Sheer Matte Case, the View Case, Micra Glam Matte Case, Sartorial Wristlet, Wallet Folio with Stand, Shield Sheer Matte Case, Surround Case and more. If you head to this Belkin product page you can all of the above with color options and prices for each.
Otterbox on the other hand, will have Samsung Galaxy S4 cases in its Commuter, Defender and Reflex lineups. There are no release dates revealed yet but you can sign up for notifications for when they become available. We imagine they will also arrive in April, to take advantage of the first Galaxy S4 sales.
The Otterbox Galaxy S4 Commuter Series cases are priced at $34.95 and give tough protection and also have a self-adhesive screen protector and port doors. They have a silicone inner layer and polycarbonate outer layer and come in a variety of color options.
The Otterbox Defender cases for the Galaxy S4 also come in various colors and a Realtree camo option and are priced between $49.95 and $59.95. These are rugged cases and have a screen protector, a belt-clip holster, are multi-layered and have port covers.
Finally the Otterbox Reflex Series cases for the Galaxy S4 are priced at $34.95. These are more lightweight cases that are easy to install or remove, include a self-adhesive screen protector and also have corner air pockets for shock and impact absorption. They are made from silicone with an internal polycarbonate backbone. Check out this Otterbox product page where you can see all of the above cases listed.
If you are looking for a case for your Galaxy S4 (when released), we hope you find something just right from the above selections. You may also be interested in our earlier look at Case-Mate cases for the Galaxy S4. Let us know which, if any, of these Belkin or Otterbox cases appeals to you by sending us your comments.