BlackBerry Q10 UK release nears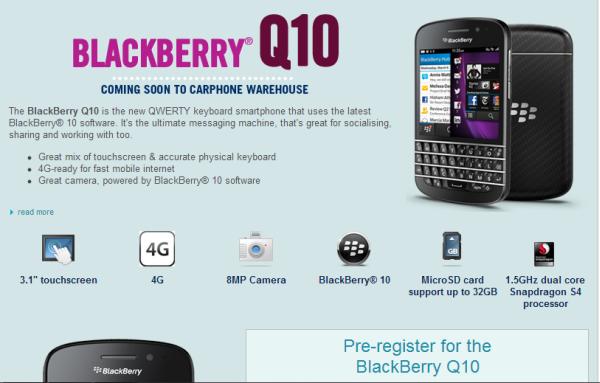 Back at the end of January we were treated to the first official look at the new BlackBerry 10 operating system at a special press event. The company also showed off two new smartphones that would run the OS with the main focus being on the touchscreen Z10, but now the BlackBerry Q10 UK release seems to be getting closer.
While the BlackBerry Z10 has been available in the country for a while now there are many that want to experience the new software with a physical QWERTY keyboard, which has always been a popular feature on BlackBerry handsets.
Now UK retailer the Carphone Warehouse has put the BlackBerry Q10 up as 'coming soon', which while this doesn't provide an actual release date for the device, must mean pre-orders will kick off anytime soon.
Previously it was suggested that the smartphone would become available in the UK and Canada during April, but so far there has been no induction on what the handset will cost consumers when released.
To quickly recap the BlackBerry Q10 features a 3.1-inch AMOLED display with a resolution of 720 x 720, which is powered by a dual core processor clocked at 1.5GHz, and there is an 8-megapixel rear facing camera capable of Full HD video capture, while around the front is a 2-megapixel shooter with 3x digital zoom and 720p video.
Are waiting to get the BlackBerry Q10?