Candy Crush Saga iPhone app problems since update: UPDATED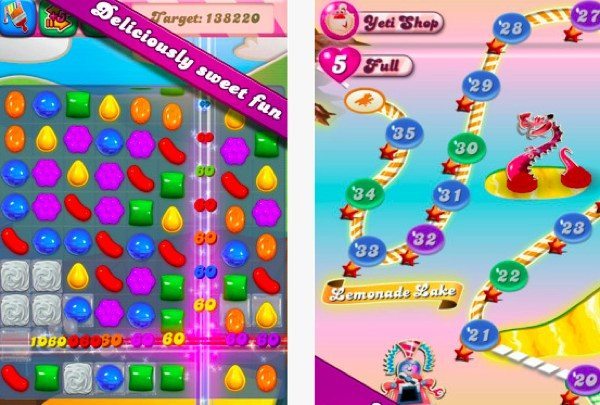 The Candy Crush Saga iOS app is one of the most popular games in the App Store right now and we love to pass on news of some of the best apps available. Unfortunately the iOS version of Candy Crush Saga has just received an update and while that's usually a good thing it seems that since the update some users (including us) are having problems with the app.
Candy Crush Saga comes from King.com Limited and many of you will have become as addicted as us to this puzzle adventure game. It's a free app in the App Store compatible for the iPhone 3GS, iPhone 4, iPhone 4S, iPhone 5, iPod touch (3rd, 4th and 5th generation) and iPad running iOS 4.3 or later and has been optimized for the iPhone 5. It involves the adventures of Tiffi and Mr. Toffee and is a particularly good game to play with friends as you can help each other out.
However, the iOS app received an update to version 1.0.8 on March 21 bringing more levels and episodes Holiday Hut and Delicious Drifts as well as support for Japanese. We downloaded the update but ever since have not been able to play the game. We seem to be stuck on level 81 with an orange screen that's loading and the word 'King'. We wondered if we were alone in this but after taking a look at some customer reviews on the app description page we can see that others have been affected to.
Another person has commented to say that when loading level 81 the app remains resolutely on 'loading' and the orange screen and so is unplayable, especially annoying if you've just paid to unlock an episode. Yet another person says that the game crashes when trying to start a level while another player says that since the update they have been unable to play level 81. It looks likely then that could be something only affecting people who were on level 81 but we cannot confirm that yet.
We have no idea of knowing how widespread this issue is so if you have Candy Crush on iOS and haven't already downloaded the latest update you might want to delay doing so until we know more. We'd like to know if these are just very isolated incidents or a more widespread issue and also would like to find out if the problem is confined to players on level 81, which seems likely at the moment, so we'd appreciate your comments to share with other readers.
Do you play Candy Crush Saga on iOS and if so have you encountered any problems since the last update? Were you by any chance on level 81 or maybe that's irrelevant and you are facing problems with another part of the game?
UPDATE: Good news as King.Com has speedily added another update today that fixes the problem, version 1.0.9. We've checked this out and found the game is working well again.