HTC One black or white color & why it matters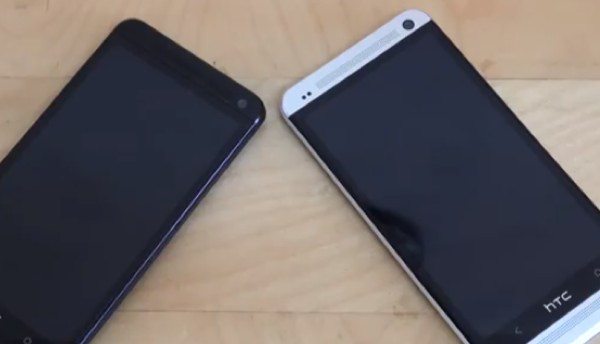 The HTC One smartphone is about to release in some regions and a short while later for others and is a brilliantly impressive device. We've been pretty wowed by this phone and have already posted many articles about it but something we hadn't paid much attention to so far are the color options. A look at a recent video though has convinced us that this is something you might want to consider if you're about to order an HTC One, as it looks at the choice between black or white and why it matters.
Although the HTC One was announced coming in three color options, black, white or red, we're not sure yet if the red option is going to be widely available although it certainly looks as though the white and black versions will be. Also we should point out that although we are referring to the white HTC One it's really more of a silver aluminum finish than white but we'll continue to refer to it for now as white as the video also does.
The design of the HTC One is extremely sleek and classy and should appeal to many consumers and with top-notch specs as well this phone should be a big hit. So why put so much thought into whether you should choose black or white? Quite simply your choice may depend on how fussy you are or how clumsy you are, according to the video that we have embedded for you below this story.
The Pocketnow YouTube video is just over 7-minutes long and gives viewers a really good close-up look at the HTC One in black or white. We're shown all sides of the HTC One in both color options along with the front and rear of the device and this really is a good-looking phone in either color. It is noted however that the rear of the black HTC One gets covered in fingerprints very readily that are both hard to get off and also noticeable. On the silvery-white version though the fingerprints on the rear hardly show at all. A nice plus point is that the video points out that less fingerprints are gathered on the front glass of the HTC One than other smartphones so that's good to hear.
Another thing to consider is that the HTC One has chamfered edges similar to the iPhone 5 and on the iPhone 5 these edges have been prone to denting and chipping. If you are the sort of smartphone user who is very careful with your device, or uses a case, then this is something you probably won't need to pay much attention to. However if you treat your phones pretty roughly then the color choice here could make a big difference. If you were to chip the silvery-white aluminum it might hardly show at all. However the black one has an anodized finish over the natural aluminum color and so a chip here would really notice.
So you see it really could make a difference to you which color option you choose if you're going to purchase the HTC One and that's something you may now want to take into account. Ultimately your choice will probably come down to color preference and many people will still choose the black HTC One as it's a beautiful looking device, despite the fact that fingerprints and chips will show more easily. However at least you can now make an informed decision between these two colors.
Take a look at the video below this story to see all of the above in detail. We'd then welcome your comments on this. Had you previously considered the differences that the color of your HTC One might make to you? Have you made up your mind between the black or the white model and if so, which one is your choice? Send your comments to let us know.