BlackBerry Z10 PowerSkin battery case released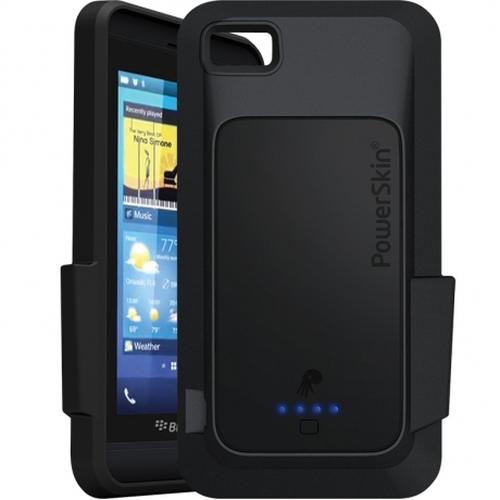 Battery life can be a touchy subject for many smartphone owners of a variety of handsets, and no matter how good certain devices may be there will be times that we could do with that little bit extra power. The BlackBerry Z10 has only been available for a short time but the PowerSkin battery case has been released for the handset.
The company has launched its new accessory for the BlackBerry Z10 that it is claiming to be the first of its kind for owners of the device. There are already a number of PowerSkin battery cases available for a number of other smartphones, and they have now treated the flagship BlackBerry handset to one.
It has been designed as a one piece soft touch silicone case that fits snugly around your device, which besides giving that all important power boost, will also protect your new treasured smartphone.
The case has its own 1,500 mAh battery to provide a nice boost in power, which according to the company will provide an increase of up to 70% in call and standby time. The case itself measures in at 2.89 x 0.79 x 5.39-inches and weighing only 0.19 pounds, which means the case doesn't add a lot of bulk to the handset.
Users can charge and sync the BlackBerry Z10 while the case is in place with the battery being activated to charge the device with a simple press of a button, and there are also lights to indicate the status of the battery inside the case. The PowerSkin case is available now in black for $79.99 from here.
Will you be getting the PowerSkin case for your BlackBerry Z10?