Samsung Galaxy S4 vs Sony Xperia Z flagship fight out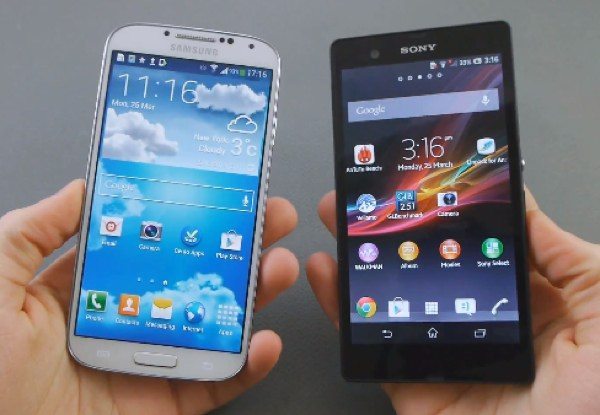 From time to time we like to give readers a comparison between two of the newest devices in a bid to help readers decide which of the two might be the best choice for them. Today we're looking at the Samsung Galaxy S4 vs. Sony Xperia Z in a flagship fight out, as both of these notable Android smartphones have a lot to offer.
The Sony Xperia Z is already available across different regions of the world and on multiple carriers while the Samsung Galaxy S4 is due for a release across the world from late April. It looks as though the Galaxy S4 will hit the UK first on April 26 and then will also then release on multiple US carriers with T-Mobile being the first to announce availability coming on May 1. We'll look at some of the key specs and details for each phone first, followed by an overall summary.
Processor
The Samsung Galaxy S4 has either a 1.6GHz Exynox Octa-core processor or a 1.9GHz Qualcomm Snapdragon 600 quad-core processor, dependent on market. It also has PowerVR SGX 544MP3 graphics or Adreno 320 graphics, again dependent on market model. The Sony Xperia Z has a 1.5GHz Qualcomm quad-core processor with Adreno 320 GPU.
Display
The Galaxy S4 totes a 5-inch Super AMOLED display with resolution of 1920 x 1080 and a whopping 441 ppi. On the other hand the Xperia Z has a 5-inch TFT display with resolution of 1920 x 1080 and again that hugely impressive 441 ppi. As you can see there's very little between them so far.
RAM and Storage
You'll find 2GB of RAM for the Galaxy S4 and 16, 32 or 64GB internal storage options, expandable via microSD to 64GB. For the Xperia Z there's also 2GB of RAM but only 16GB of internal storage, expandable via microSD to 64GB.
Camera Set-up
There's a 13-megapixel rear camera with autofocus, LED flash, dual shot, simultaneous HD video and image capture, geo-tagging, touch focus, face and smile detection, image stabilization and HDR for the Galaxy S4. It's also capable of 1080p @30fps video with dual-video recording and also has a 2-megapixel front-facing camera also with 1080p @30fps and also dual video call. Alternatively the Xperia Z has 13.1-megapixel rear camera with autofocus, LED flash, geo-tagging, touch focus, face detection, image stabilization, sweep panorama, HDR recording with 1080p video capture @30fps, image stabilization and HDR. It also sports a 2.2-megapixel front-facing camera also with 1080p @30fps.
Battery
The Galaxy S4 has a 2600 mAh battery while the Xperia X has a 2330 mAh non-removable battery so the Galaxy S4 has the advantage here.
Operating System
Android 4.2.2 Jelly Bean will be the OS for the Galaxy S4 out of the box with Samsung's TouchWiz UI also evident. The Xperia Z released on Android 4.1.2 Jelly Bean and there's a planned upgrade to 4.2. It also uses the Sony Bravia Engine 2.
Dimensions and Colors
Measurements of the Galaxy S4 are 136.6mm x 69.8mm x 7.9mm and it weighs 130g. It comes in White Frost or Black Mist color options but more colors may arrive later, as in the case of the Galaxy S3. The Xperia Z measures 139mm x 71mm x 7.9mm, weighs 146g and has black, white or purple color options.
As you can see these two phones are pretty similar when it comes to specs with only some minor differences between them. They both also have LTE connectivity (on models where applicable), Bluetooth 4.0 with AD2P and NFC although the Xperia Z has Wi-Fi 802.11 a/b/g/n and the Galaxy S4 has the superior Wi-Fi 802.11 a/b/g/n/ac. However the Xperia Z is both water and dust resistant, something that the Galaxy S4 lacks.
Of course we haven't room here to detail every single specification and also features of both phones and this is where some feel the Samsung Galaxy S4 pushes ahead. As well as wireless charging (some markets) the Galaxy S4 has some amazing new features and improvements such as Smart Stay, Smart Scroll and Smart Pause and further enhancements to S Voice.
Design and build may also play a part in any decision you make between these two handset and on a personal level we'd say the Xperia Z wins this hands down with an elegant sleek design, top-end materials and all-round premium look and feel whereas once more the new Galaxy S handset features plastic and more plastic as on previous Galaxy S phones. Pricing for the Galaxy S4 is only just being announced in dribs and drabs for different regions and carriers but it likely to be around the same price as the Xperia Z or maybe just slightly more.
We say that both of these phones have a huge amount to offer consumers. Although the Galaxy S4 will undoubtedly become the bigger seller (such is the dominance of Samsung for Android devices) that doesn't mean the Xperia Z doesn't more than live up to its billing of being Sony's flagship device. Both phones will offer users a fine mobile experience and should keep users satisfied and happy with their choice. If innovative features are important to you then the Galaxy S4 might be the right choice for you. However, if you want a good-looking phone that looks and feels good the Xperia Z may suit you better.
We'd like to hear your thoughts on these two smartphones. If you were to choose between the Samsung Galaxy S4 and the Sony Xperia Z right now, which would you opt for and why? Let us know with your comments.